Michael James Tindall, in short, Mike Tindall, MBE is a former rugby player who played for the English national team.
The former rugby player was born on 18th of October, 1978, in Otley, Yorkshire. His parent's name is Philip Tindal and Linda Shephard.
Mike got his early level education from a public school named Queen Elizabeth Grammar School in Wakefield.
Starting a rugby career from his very early age, Mike had joined Bath Rugby at the age of 18 and by 2000, he already was an active player for both the country and the team.
Mike Tindall Net Worth
Mike Tindall has an estimated net worth of $5 million. Most of his fortune is accumulated from his rugby career.
In 2014 as a player and a coach at Gloucester Rugby Club, Mike earned about $200,000 a year at least, plus some extra sum of money from celebrity endorsements.
Besides that Mike also owns a company called Kimble Trading, whose net worth as of 2017 is $713,571.
In English city of Bath, Mike owns a three-bedroom flat which is worth $756,000 and has been rented out for $2,900 a month.
Not justs in the UK but also in Dubai, Mike owns a three-bedroom property. Property experts say if Mike waits until 2020, then he could triple the $580,000 he paid for it.
All the money he generated from his rugby career and property deals contribute a substantial amount of money to Mike's $5 million net worth.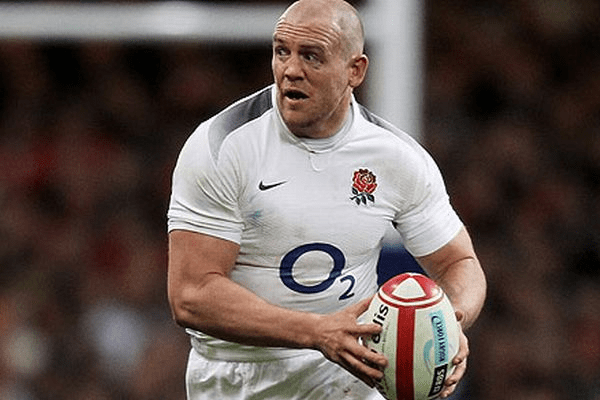 Mike Tindall during his rugby playing days which helped him to earn his $5 Million net worth.
Photo Source: The Mirror
Mike Tindall Family
Parents
Mike Tindall's father, Philip Tindall like his son is an avid rugby player and had captained for Otley back in the days, whereas his mother, Linda Shephard is a social worker.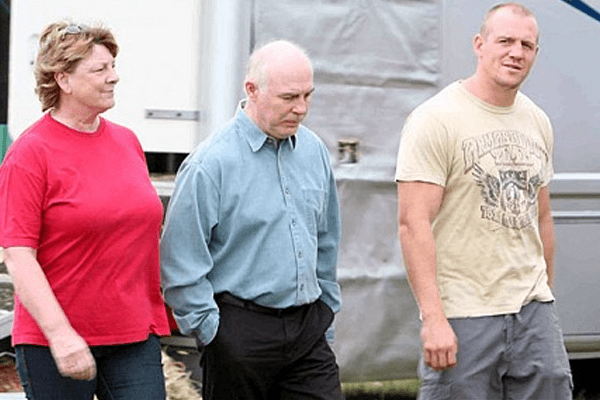 Mike Tindall, MBE with his father Philip Tindall and mother Linda Shephard. Image Source: Telegraph
Later on, Mike's father changed his career from a player to a banker and worked for Barclays.
The details about Mike's other sibling has not been disclosed yet so he probably is the lone sone of the Tindall family.
Wife and Children
Mike Tindall's wedding with Zara Phillips (Tindall) was held on 30th of July 2011 at Canongate Kirk in Edinburgh. The news of their engagement was announced on 21stof December 2010.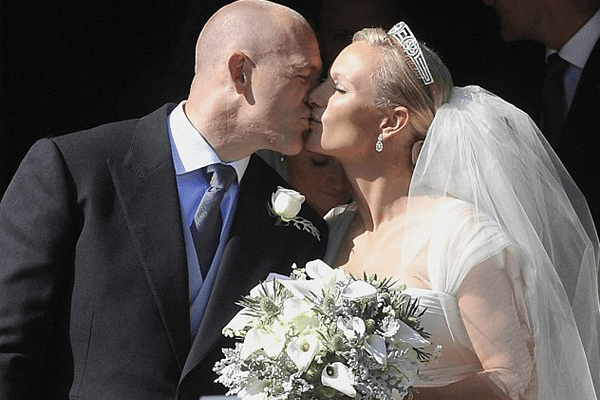 Mike Tindall exchanging a passionate kiss with wife Zara Tindall during their wedding.
Picture Source: Daily Mail
Zara is the granddaughter of  Queen Elizabeth II.
The lovely pair met for the first time during the 2003 Rugby World Cup in Australia.
Mike later revealed that he was wearing an invisible brace when he married Zara. He had Invisalign braces which are so discreet that no-one noticed that he was wearing them. He said that his teeth have been a big regret for him.
After 3 years of marriage, the couple had their first child. On 17th of January, they welcomed a cute baby daughter home and named her Mia Tindall.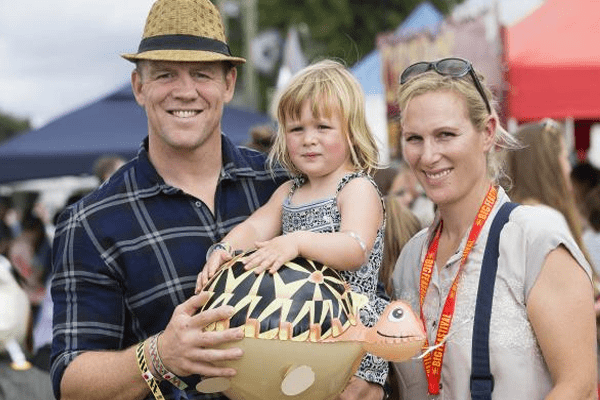 Mike Tindall with wife Zara Tindall and daughter Mia Tindall.
Image Source: People
Unfortunately, Zara later miscarried a child that was due in the late spring of 2016.  On January 5th, 2018 it was confirmed that Zara was pregnant, again and the couple is expecting a royal baby.
On 18th of June, the Buckingham Palace announced that the 37-year-old Zara and 39-year-old Philip welcomed their second baby daughter. The recently born young princess is 19th in line for the throne.
Mike Tindall and his crooked Nose
Mike's mother-in-law Princess Royal asked him to have a plastic surgery on his nose. And after 6 years, he finally decided to fix his crooked nose. 
Even though the MBE Mike loved his wonky nose a lot, it gave him a lot of trouble. The crooked nose caused him difficulty in smelling, had blocked sinuses and also gave him severe headaches.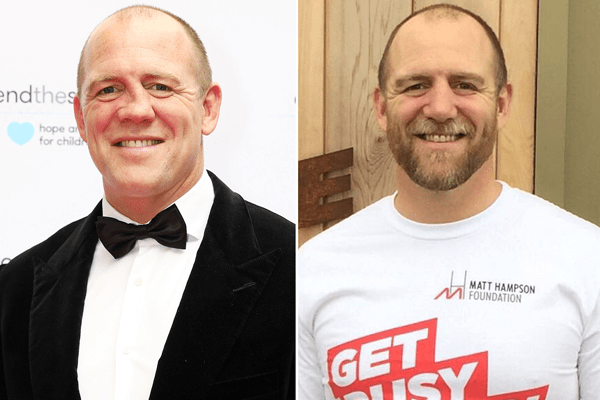 Mike Tindall before and after fixing his crooked nose.
Image Source: People
For now, he is enjoying his newly operated nose.
For more News and Entertainment follow SuperbHub.