The incident took place just outside Nipsey Hussle's Marathon Clothing Store in South Los Angeles. Total of 3 people were shot and injured. According to sources of NBC, Rapper Hussle is pronounced dead  by the hospital.
On March 31, Sunday, Nipsey Hussle was at his Clothing Company in Hyde Park neighborhood of L.A. TMZ reported that the eye witnesses heard many shots fired. And  Nipsey was one among the 3 to be injured.  He was reported to be shot 3 different times with at least one shot on his head. The suspect is reported to have fled in a car with a female driver.
Also Read: Nipsey Hussle's Killer Eric Holder Captured.
Police and paramedics came to the area and taped off the crime scene.
Hussle was seen to be receiving CPR from an EMT before being rushed to the hospital.

Then, one out of three injured was announced to be dead but it wasn't certain if it was Nipsey. However, after a while it was pronounced that Hussle is dead.
It's crazy to know that just after Hussle had tweeted;

he was shot dead. It's really strange!
This is the second time gunfire happened in Nipsey's store.  Back in September 2018, there was gunfire in the store too but no one was shot and Hussle wasn't present at his store that time.
'Victory Lap' Grammy Nominated Rapper Ermias Davidson Asghedom aka Nipsey Hussle  had released many mixtapes in his more than a decade career. He has worked with popular rappers, singers like Drake, Kendrick Lamar, Young Thug, Rick Ross, Snoop Dogg, Tyga and many more.

Nipsey Hussle is now survived by his children, son Kross Asghedom and daughter, Emani Asghedom, along with his longtime girlfriend Lauren London and ex-girlfriend Tanisha Asghedom.
Nipsey knew about gang violence, murder, killing before. Thus, he got himself involved working to prevent gang violence in his local community. Hussle also had helped to start 'Destination Crenshaw,'  an open air museum of 1.3 mile featuring local art.
Hussle was doing great. And now he is no more with us and his family. Nipsey Hussle's death certificate issued states that he died thirty-five minutes after he got shot.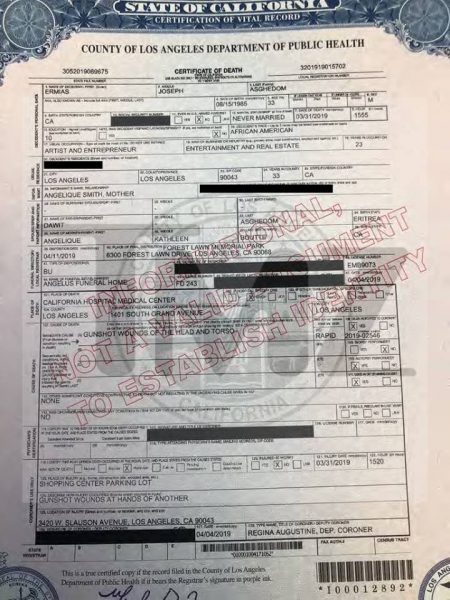 Nipsey Hussle's Death Certificate. Source: TMZ
RIP Nipsey Hussle.
SuperbHub for celebrity news and entertainment.