Bravo T.V's Don't Be Tardy star Brielle Biermann has called quit with her boyfriend  Michael Kopech, a baseball player, sources of US Weekly exclusively confirmed Brielle Biermann split with Michael Kopech.
According to the sources of US weekly, Brielle was having a problem with the long- distance relationship and despite both of them wanting to see each other often their hectic baseball and acting schedule wouldn't just make things work.
Sources confirmed Brielle Biermann split with Michael Kopech on March 13, 2018, wishing each other best and ended things on mutual agreement. The duo had confirmed their relationship in June 2016 and they were reportedly seeing each other since March.
Brielle's ex-boyfriend Kopech was absent on her 21st Birthday and had sent her birthday wishes through his Instagram. Kopech had captioned Happy 21st Birthday to my favorite person, I'm blessed to grow up with you and excited to see where future takes us. He concluded saying that he loved her so much and was thankful for her.

On March 15 Brielle took on her Twitter stating she needed a movie buddy for this weekend concluding so many new ones she wanted to see. Another of her tweet also reads that she was happy and excited for what her future holds. Looks like Brielle is doing fine after the split and has no difficulties to overcome her break-up.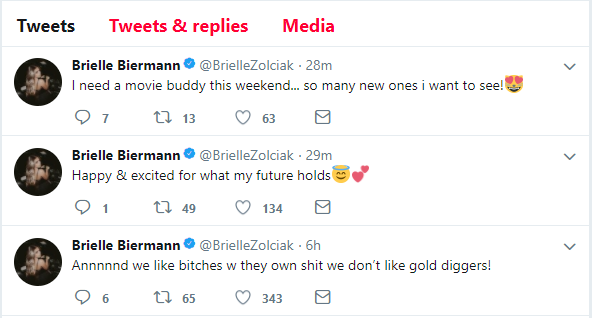 Tracing their Love story on their Instagram the couple seemed so perfect together and must love each other very dearly. They had spent Christmas together and had gone holiday on the Bahamas.
Briel Bierman was also one of the participants of Khloe Kardashian's Baby Shower in Hotel Bel Air.

Following Brielle Biermann split with Michael Kopech, on March 14 Bierman's purse had been stolen and the person had spent $10,000 at Bloomingdales from her Neiman Marcus Card.
For more Celebrity News and Entertainment: SuperbHub