The American football quarterback, Baker Reagan Mayfield is a part of the Cleveland Browns at the National Football League (NFL). The professional football player has grabbed the second rank for passing efficiency rating in FBS history.
Does the American footballer have a clean dating history? Is Baker Mayfield's fiancee Emily Wilkinson the only girl, the charming NFL player, has ever dated?
Baker Mayfield's Relationship with Fiancee Emily Wilkinson
Baker Mayfield's girlfriend Emily Wilkinson became his fiancee in June 2018. The American model said yes to the love of her life. Wilkinson shared the good news on Instagram as she was delighted.
View this post on Instagram
Baker Mayfield and Emily Wilkinson were first spotted together at a Los Angeles Clippers game on January 2018. Soon, rumors sparked about the adorable couple.
The Nebraskan beauty Emily Wilkinson met her beau in Los Angeles where she worked as a patient coordinator at Galanis Plastic Surgery at Beverly Hills. The model stated that she left her job to be with Baker Mayfield. 
The former patient coordinator decided to move to  Cleveland with Baker Mayfield after he signed a contract with The Cleveland Browns. The multimillionaire's four-year deal is worth $32.68 million and includes the signing bonus of $21.85 million.
Mayfield's girlfriend, Morgan Mayberry (2016 – 2017)
Be it Mayfield being arrested in Fayetteville, Arkansas or the Oklahoma Sooners quarterback, making headlines; we are fond of the relationship between Morgan Mayberry and the NFL star. 
Although least information regarding the relationship between Mayberry and Mayfield has been revealed, Mayfield actively shared their cute experiences in social media.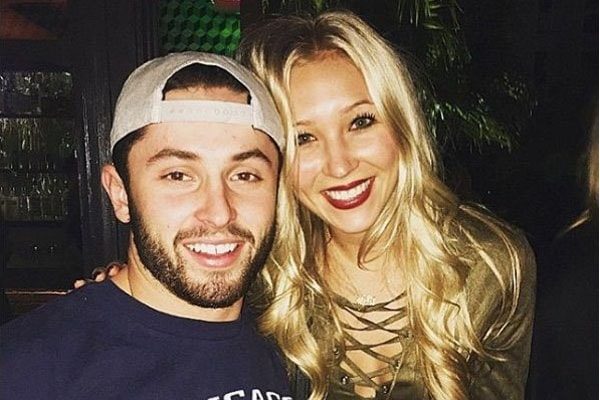 Baker Mayfield with his ex-girlfriend, Morgan Mayberry.
Image Source: Pinterest.
The professional footballer and his ex-girlfriend could be spotted enjoying each other's company. They used to go for vacations in places like St. Lucia. The former couple was spotted in various award ceremonies together.
According to The Sports Daily report on May 26, 2017,  Morgan Mayberry usually attended Mayfield's games. Baker even claimed that he felt lucky to have Morgan by his side. On June 2,6 2017, the former couple attended Baker Mayfield's cousin's wedding.
June 12, 2017, was the day Mayfield confessed that Morgan Mayberry is his inspiration and motivation. The star expressed his appreciation regarding the support and companionship Mayberry offered him.
Baker thanked Morgan for making his birthday special on April 15, 2017. The champion wished his former girlfriend happy birthday on March 16.
Baker Mayfield's girlfriend, Baillie Burmaster (2015-2016)
We are aware that Baker Mayfield and his ex-girlfriend Baillie Burmaster attended Oklahoma's arch-rival Oklahoma State. The Texas beauty Baillie participated in beauty pageants. The former soccer player is socially active.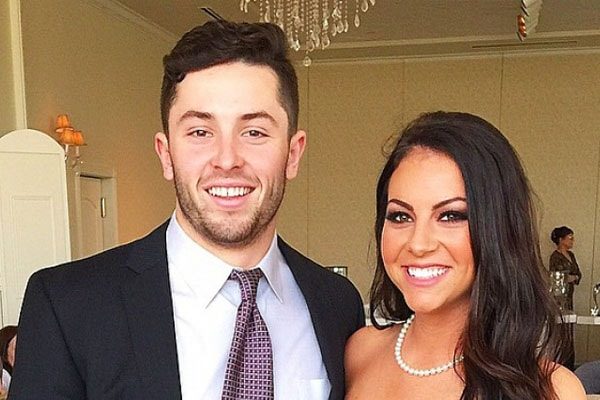 Baker Mayfield with his ex-girlfriend Baillie Burmaster.
Image Source: Stacked decks.
Baillie Burmaster has been successful in portraying herself as an interviewer for KCBD News Channel 11 in Oklahoma where she interviews athletes.