Shinobi Ninja is a Brooklyn based band widely known for their high spirited music performance and the unique musical blend of rock, jazz, and Hip-Hop. Shinobi Ninja has been in the music scene since 2008 and has amassed a significant number of fans from constant touring and networking.
Edara "Baby G" is the Frontman, Lead Singer, and rapper of the band Shinobi Ninja. Baby G has her own way of expressing herself and presenting a song in a truthful manner. Prior to joining the band Shinobi Ninja, Baby G was a professional dancer who worked with famous artists like Rihana, Jason Derulo, and Twin Brothers.
Shinobi Ninja has released four studio albums, 4 eps, and two mixtapes. Shinobi Ninja's 2014 song What If Times is directed by Baby G herself and the official music video was recorded via a cell phone.
Shinobi Ninja "What If Times"
Shinobi Ninja's song What If Times is filmed entirely on a cell phone which features a very positive and realistic lyrics with an expressive video. The video starts with a quote from Robin Williams and a little boy singing the opening lines What if Times don't get no better than this which signifies innocence and peace.
The intro of the song has a very rhythmic and groovy guitar riff followed with a melodic studio music. What If Times has a very unique intro and a catchy riff which pleases every music enthusiasts. The video shows Baby G singing and playing with kids on the street which reminds the importance of family and kids in our lives.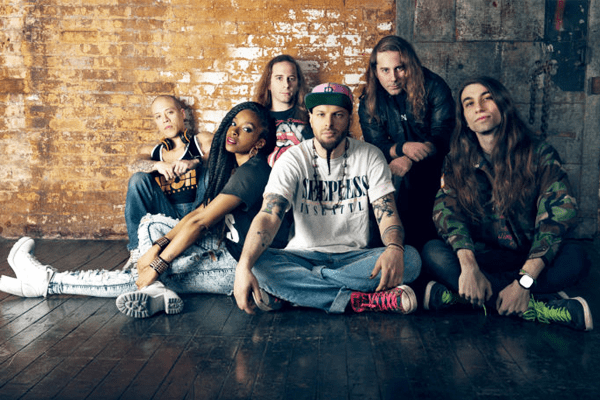 American Rock Band Shinobi Ninja members: Baby G, Alien Lex, Duke Sims, Kid Shreddi, Axis Powers, Terminator Dave. 
Image Source: Brooklyn Reader 
Both the music and video has an optimistic vibe to it which depicts the struggle of a black family. In the music video Baby G  recollects her childhood memories and how her mother worked hard to support her family when her father had left the family. By the means of a lyrics, Shinobi Ninja has presented the bitter truths and reality of a family in a productive and inspirational way.
Apart from the truthful lyrics the music of What If Time is very uplifting and groovy. Music Time variations on the song are composed very creatively and the chorus has a retro feel to it.
Watch the Music Video of Shinobi Ninja's What If Times:


Their latest album Bless Up was released in 2017 which was well received in the biz for its uplifting dancing melodies and catchy electronic instrumentals.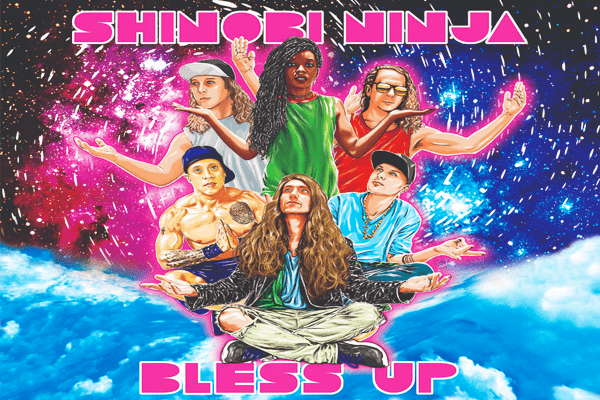 Shinobi Ninja's 2017 album Bless Up. 
Image Source: Shinobi Ninja
For More Celebrity News and Entertainment: SuperbHub.