We all know Mark Wahlberg as he has made a brand of himself. We are also known to the fact that Mark has 11 siblings, among whom, Jim Wahlberg is the fifth oldest of the Wahlberg siblings. Furthermore, growing up in the streets of Dorchester and recovering the rough upbringing, Jim thrived, to become a better person.
Let's get to know more about Mark Wahlberg's elder brother, Jim Wahlberg, aka James M. Wahlberg's net worth, lifestyle, and whereabouts in this short biography of his.
Is Jim Wahlberg Married?
One of the major concerns for a celebrity's wife becomes their privacy. Hence Jim Wahlberg's wife is no exception as the couple leads a very private life. It is no secret that Jim Wahlberg and his wife, Bennie Wahlberg, have been together for a long time.
Although Jim Wahlberg's wife hasn't revealed much about herself, Jim posts her pictures occasionally. The couple dated several years before turning their beautiful relationship into marriage in the 1980s.
Who Are Jim Wahlberg's Children?
The couple has three children, a son and a pair of fraternal twins: a girl and a boy.
Jim Wahlberg's son Jeff Wahlberg was born on March 29, 1996. According to Jeff's IMDb, his mother is of Dominican descent.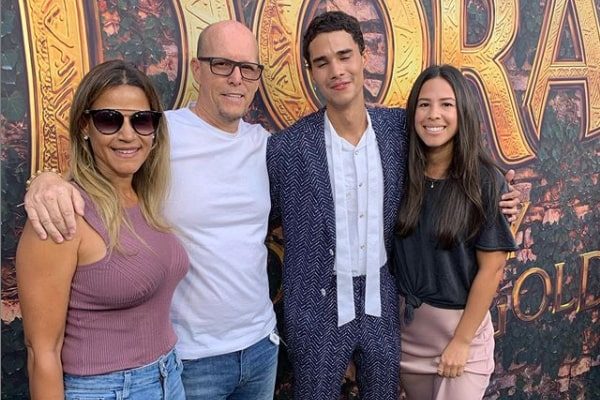 Jim Wahlberg lives a very happy life with his wife, Bennie Wahlberg, and three children. Image Source: Wahlberg's Instagram.
As of now, Jim, Bennie, and their three children are settled outside Florida and are living in perfect harmony. Jim Wahlberg's son, Jeff, has entered the entertainment world and is doing a phenomenal job as an actor. He is known for his work on Don't Come Back from the Moon, Counterpart, and Dora, and the Lost City of Gold.
For now, the family of five is living in absolute peace, and let's hope the grounded family remains the same; thriving and succeeding.
What Is Jim Wahlberg's Net Worth?
Jim Wahlberg is one of the Wahlberg siblings who has kept his personal information a little too private. Although the exact estimation of Jim Wahlberg's net worth is not pinned, we can be sure that he is living in abundance. As for his brother Mark Wahlberg, he has an estimated net worth of $300 million.
Jim Wahlberg's earning is mostly welcomed from his career as a producer and a writer. According to his IMDb, Jim is known for his contribution to The Circle of Addiction: A Different Kind of Tears, If Only, What About the Kids? Etc. Furthermore, he also produced forty-seven episodes of his family reality tv-show, Wahlburgers. Jim Wahlberg's other credits of producer include Instant Gratification, A Feeling from Within, etc.
Wahlberg's pockets were filled substantially as a producer. However, he did not limit his work as a producer but tried his luck as director and writer as well. According to Jim's IMDb, he has two credits as a director that include The Circle of Addiction: A Different Kind of Tears, and What about the Kids? 
Apart from Jim's directorial works, he also acts as an executive director of the Mark Wahlberg Youth Foundation. The foundation was initiated to improve the life standard of city youths through a partnership with like-minded organizations.
Furthermore, Wahlberg is also a founder and CEO of Wahl St. Marketing & Consulting. His production company produces films, television, and web content independently. Moreover, it specializes in brand development, strategic marketing, and relationship management, as well. Therefore, Jim Wahlberg's net worth must be massive as his experience of handling the camera surpasses more than two decades.
Who Are Jim Wahlberg's Parents?
Jim Wahlberg comes from a massive family with history. He was born on August 19, 1965, in Dorchester to Alma Wahlberg and Donald E. Wahlberg Sr. 
Jim Wahlberg's parents, Alma and Donald, were married in 1965, but the marriage ended after 17 years long of conjugal in 1982.
Additionally, Wahlberg's family was massive. Alma and Donald Wahlberg gave birth to many children before separation. Jim Wahlberg grew up with his siblings Aruther Wahlberg, Paul Wahlberg, Donnie Wahlberg, Mark Wahlberg, Robert Wahlberg, Michelle Wahlberg, Tracey Wahlberg, and Debbie Wahlberg in Dorchester.
View this post on Instagram
As of now, Jim Wahlberg's mother is co-owner of the family restaurant, Wahlburgers, while his father died on February 14, 2008. The family grew up amongst one another, learning from the hood and high school.
Mark Wahlberg's brother James Wahlberg, has grown up very well and has succeeded in his career along with his famous brothers. Let's hope he keeps up with his excellent work and earns more respect, along with cash, and grows more spiritually.
Fun Facts:
Jim Wahlberg participated in a race that was inspired by the Boston Marathon bombing in 2013.
He also runs a podcast called 'The Bottom Line.'
Don't Miss To Follow SuperbHub For More Updates On Celebrity Biography,  News. and  Entertainment.