The Fox News Channel's News Correspondent, Brenda Buttner was a famous name in the Broadcasting World. Brenda was well known for being a host of the popular show Bulls and Bears of Fox News Channel. Prior to Fox News, Brenda served as Washington Correspondent and general Correspondent for CNBC Channel.
Born on 23 May 1961, Brenda was a native of Santa Cruz County, California but grew in Watsonville, California. Brenda completed her graduation from Harvard University in 1983 with a bachelor's degree in social studies. After that, she went to Balliol College, Oxford University, England, where she graduated with high honors and received a B.A. in politics and economics as a Rhodes Scholar.
Right after her study, Brenda started her career in broadcasting journalism in NBC affiliate KCRL-TV at Reno, Nevada. Later on, she rose as a general correspondent at CNBC after hosting the show, The Money Club. She joined Fox News based in New York as a senior Business Correspondent in 2000.
Personal Life and Daughters
The former Fox News Correspondent, Brenda had a marriage relationship with FNC business contributor Tom Adkins. Brenda tied her knot with Tom on 24 January 2006 and had two adorable daughters, Rebecca and Rachel Adkins with him. The love life of Brenda was not as successful as her career. Although she was divorced from Tom within four years in 2010 but got 2 daughters whom she called her lifetime treasure.
The mother of two, Brenda was so deeply close to her daughters that her last breath was survived by both of them. Despite Brenda's demanding job with the network, she never lost focus of the little things that mattered to her. After Brenda's divorce with her husband, the main goal of Brenda's life was her daughters' wellness and success.
Brenda had achieved a huge success within her short span of life. Her personal life was full of luxuries because of earnings she gathered from Fox News. Her earnings were around 100k annually and her Net worth was of $3 million at the time of her death.
Besides she received several awards within her lifetime for her immense work at the network. Brenda's numerous awards include Cable Ace Award in 1996 for best business programming and a National Clarion award in 1990 for the best news story.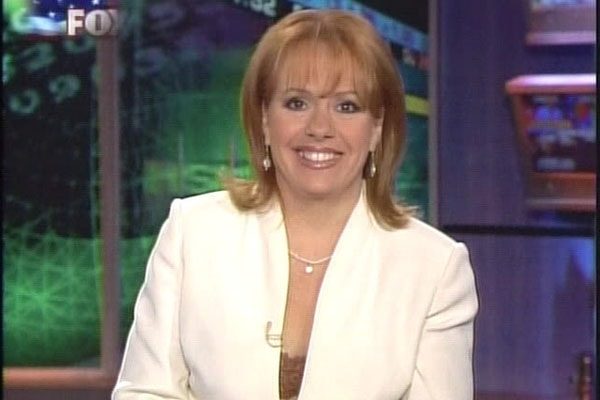 Senior Business Correspondent Brenda Buttner at Fox News Channel studio. Image Source: Highlight Hollywood
Health Issues and Problems
Brenda was diagnosed by fatal breast Cancer in late 2015. She usually talked about her fight with cancer over her Twitter profile and thanked fans for supporting her. Despite her severe illness, Brenda never lost her hope of winning cancer and promised her fan for coming back. But Unfortunately, the prayers and blessings of fans could not work for her and Brenda lost her battle with cancer.
The Cancer of Brenda was spread over her eye and brain before she breathed for last. Moreover, she already had lost more than half of her weight because of anxiety caused by Chemotherapy. Brenda always said with a laugh that she wanted to lose a few pounds but who knew her wish would succeed in such a miserable way.
Brenda's Death and Funeral
The host of Bulls and Bear, Brenda Buttner passed away on 20 February 2017. Brenda lived in Ridgewood, New Jersey along with her daughters Rebecca and Rachel Adkins at the time of her passings. The end of 2 years long fight with cancer came to an end after Brenda's lost. The news of Brenda's death was first confirmed by Fox News Insider and colleague Neil Cavuto who shared an emotional tribute to her on his show.
The Funeral of Brenda was attended by her close family members and colleagues. It was quite difficult for the fans of Brenda to digest her absence in this World. Although Brenda died in a small age of 55, she gained lots of respect and greetings that a news correspondent could ever achieve. Everyone praised her strength for fighting cancer heroically until her last breath.

No doubt, Brenda may have lost the battle with cancer and is not here but she has successfully won millions of heart around the world.
SuperbHub for News and Entertainment