Gabrielle Crahan, the youngest daughter of Slipknot percussionist Shawn "Clown" Crahan, has passed away on Saturday, May 18, 2019, at the young age of 22. The cause of her death has not been revealed as of yet.
Shawn Crahan and his wife Chantel Crahan, whom he tied the knot with in June 1992, had four children and Gabrielle was one of the four.
It has not been long since Slipknot made a debut with their new masks in the music video Unsainted. And after giving a grand performance on Jimmy Kimmel Live!, the Slipknot family has lost a beloved member.
Shawn announced the tragic news of his daughter's death via his Instagram.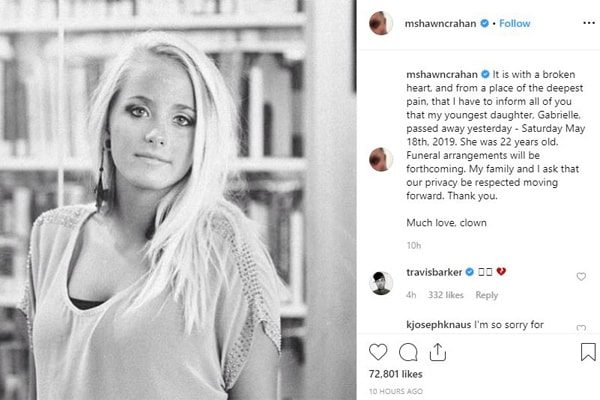 Slipknot's Shawn Crahan has posted about his daughter being no more on Instagram.
The musician who is 49 years old and has stage names of Clown and #6, announced that funeral arrangements would be forthcoming and also added that his family is asking for their privacy be respected while moving on.
Shawn Crahan's daughter Gabrielle is currently survived by her family members including her father, mother, elder sister, Alexandria Crahan and brothers Gage Crahan and Simon Crahan.
Reactions From Crahan Family About Gabrielle Crahan Passing Away
Simon mournfully posted about his sister's tragic death on his social media.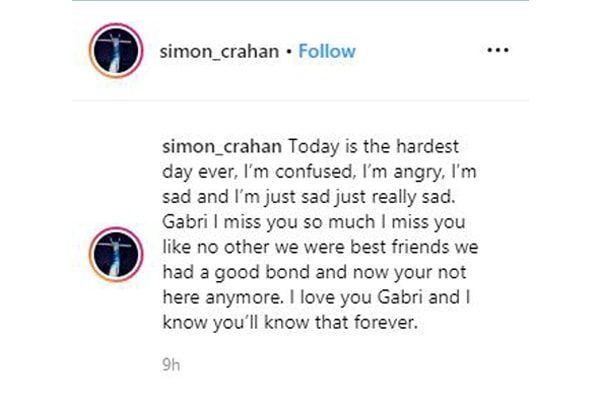 Simon Crahan has opened his heart out in a sad post on his social media about his sister Gabrielle passing away. Snapshot Source: simon_crahan/Instagram.
Gabrielle's elder sister Alexandria posted a picture of their childhood, saying the age of 22 is too young to die.
Alexandria also expressed her shock and her dilemma on how to process the emotions that she was experiencing. She also mentioned that the comforts that she had in the sad moments were her family, friends, and her cats.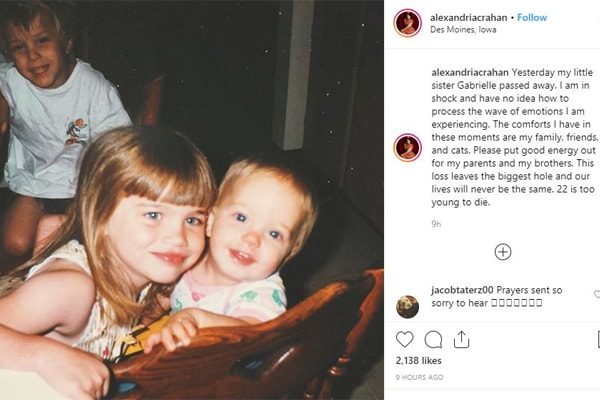 Alexandria Crahan mourns about her sister Gabrielle Crahan's death with a childhood picture of the two. Snapshot Source: alexandriacrahan/Instagram.
Gabrielle Crahan Supported Her Father Shawn Crahan Very Much
Gabrielle was also very supportive of her father, Shawn Crahan. At times Gabrielle and her mother Chantel would even attend the red carpets alongside Shawn in order to boost his confidence.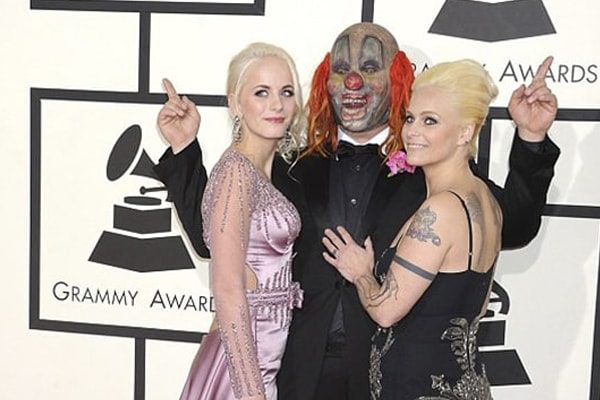 Gabrielle Crahan used to support her father, Shawn Crahan. She used to attend Red Carpet Events with him as well. Image Source: Getty.
Shawn's daughter Gabrielle's death could affect Slipknot's plans. Slipknot's schedule is to go to Europe next month before moving on the "Knotfest Roadshow" headline tour. This tour is planned to be in summer, and the destination is North America. As the band considered Gabrielle as their own member, could her death affect the tour? Probably yes.
Keep connected with SuperbHub for more News, Entertainment and Biography.