Cleveland Art and Culture Reporter Nikki Delamotte was found dead with gunshot wounds Monday, November 12, 2018, in her uncle's trailer. Nikki 30, and her uncle Robert 67 were found dead in Perrysburg Township, about 10 miles southeast of Toledo, Ohio, as per the Perrysburg Police department.
A statement released by Police stated that her death has no connection of her being a Journalist. Any other information was not disclosed due to the suspicious nature of her death. Wood County Coroner said she was shot several times and her uncle had died from single gunshot wound. The motivation behind the deaths are still being investigated and is apparently considered as a homicide.
Delamotte had little contact with her uncle
Delamotte was distant from her father's family following her parent's divorce when she was a teenager. She had little contact with her uncle Robert who died of a single gunshot wound. What prompted Nikki to reach out her uncle was the death of her 98-year-old maternal grandmother.
Nikki's mother JoAnne Ullman had told celeveland.com that her daughter had made plans to meet her uncle on Sunday to watch Miami Dolphins play the Green Bay Packers at a local bar. Ullman said Nikki did not respond to a text message sent at 10:30 p.m. and reported her missing on Monday morning.
Robert had been shot once and her niece Nikki suffered multiple gunshots wounds in his mobile home. 67-year-old Robert lived at the Friendly Village mobile home park located in Perrysburg Township in Wood County, Ohio.
The neighbors had reported to Toledo station WTOL following the deaths. Sharon Nagle stated the situation as "weird" and presumed to know Nikki's uncle as Bob. She expressed her sympathy for the family as they were trying to get back together.
Robert who was a resident of Perrysburg Township does not have a criminal history but was charged a speeding ticket in 2009. Nikki's uncle was born in September 1951 and appears to have spent most of his life in Northwest Ohio.
A Tragic death of Beloved Cleveland reporter
Heartfelt tributes to Nikki have flooded in social media and Cleveland had tweeted saying she was the new friend that you'd know forever, she was warm and caring.
Nikki was a Graduate of Cleveland State University who had been working for Cleveland.com since mid-2016. Nikki was a reporter specializing in the food scene, music, and human interest stories. Her social accounts depict her love for cats, dogs, stuffed animals and a deep love for her family.
Delamotte's boyfriend Robert Darkmatter posted a heartfelt message in facebook thanking everyone for the kind posts and comments.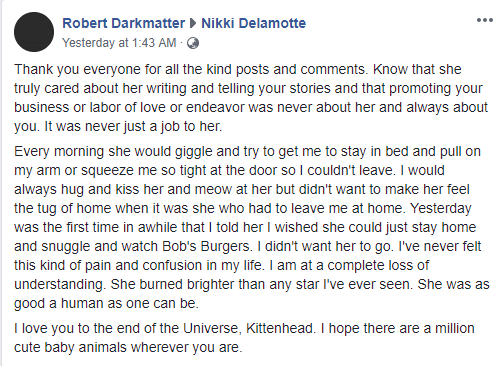 Nikki's friends expressed their sympathy in her Instagram stating they would miss her articles and appreciated her love for photography and Cleveland.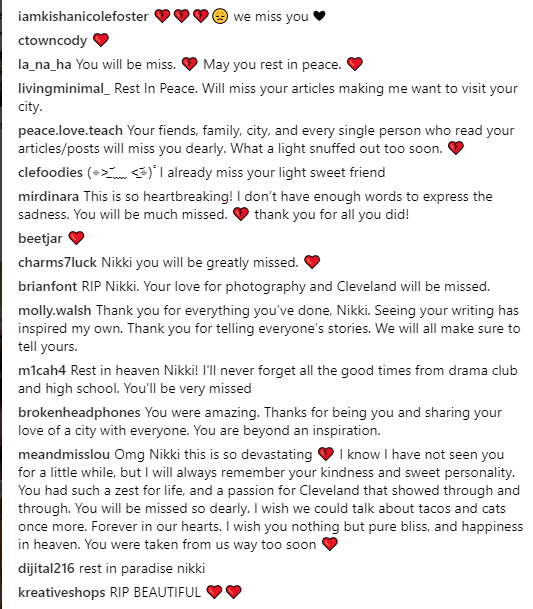 Rest in Peace Nikki!
For more News and Entertainment: SuperbHub.