President of Mauritius, Ameenah Gurib-Fakim after great pressure, is soon resigning from her post due to her financial scandal.
Prime Minister Pravind Kumar Jugnauth announced on Friday, March 9, 2018;
"The president told me that she would resign from the office and we have agreed on the date of her departure."
Pravind Jugnauth said that the president used the huge amount from the credit card given by London based charity Planet Earth Institute (PEI) for her personal use.
Jaugnauth further said:
"The credit card was given to her to promote doctorate programme not for buying her personal items."
He added that in 2016, Ameenah has done duty-free purchases in Dubai of $21,444, bought jewellery, and more amount on her trip to Sweden, England, India and Italy according to Live Mint.
Ameenah Gurib- Fakim, however, denied every accusation against her. The president, in fact, added she had already refunded the money after the question arose.
Instead, Ameenah became curious and raised the question of how did the topic arise after a year later the deed happened. She said in the speech of March 7.
Ameenah is however known to resign from her post after the 50th anniversary of the island's independence. The actual date is still not disclosed yet according to BBC.
On  March 9, 2018, Friday night, she tweeted she is still in her post
The first female Mauritian president Ameenah is now listed among the government officers who stepped down for the corruption and for disobeying the government's rules. It is said that Ameenah holding the current presidency has stopped using the card after the financial scandal.
She has taken her voice in her twitter saying that all the allegations against her will be proved false. And after the inquiry, the truth will be revealed.
But most of the people are retweeting her saying that if the allegations are false, then she should stay back and fight rather than resigning.
Ameenah Gurib-Fakim was a biodiversity scientist before she was appointed as the first women in the post for president of Mauritius in 2015. But now, she has to quit her post for her improper behaviour. Ameenah was selected as a presidential candidate for Alliance Lepep in December 2014.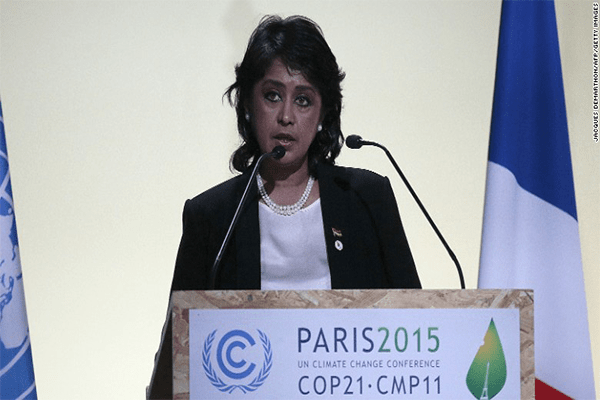 Ameenah Gurib-Farim delivering the speech in Paris in 2015.
Stay tuned with SuperbHub for more trending News.