---
After years of on-screen and off-screen romance, Kit Harrington, famously known as Game of Thrones' Jon Snow married his sweetheart Rose Leslie, also famous for portraying Game of Thrones' favorite wildling Ygritte.
The couple tied the knot at Kirton of  Rayne Church of Scotland on Saturday as Rose and Kit exchanged vows and promised to be together forever. The ceremony was very romantic and was attended by the two's friends family and friends, which included a lot of their Game of Thrones co-stars.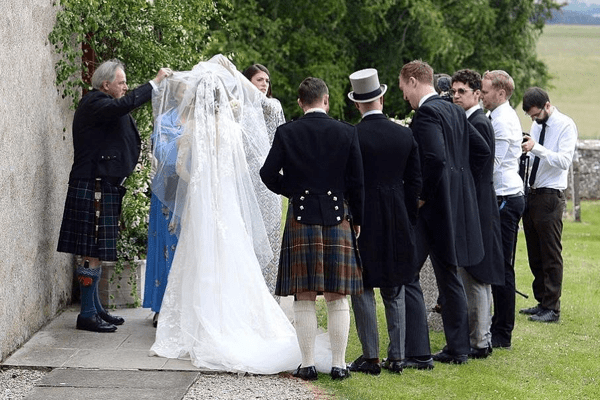 Rose and Kit exchanged wedding vows.
After the star-studded wedding, where Kit and Rose vowed to together for eternity (that's what I think they said), the wedding reception was held at the nearby Wardhill Castle, which belongs to Leslie's noble family as friends and family members celebrated the coming together of these lovebirds.
Leslie, who is a member of the Scotish Clan Leslie, was looking stunning in her white wedding gown along with the veil. She also sported beautiful diamond earrings, making her look like a princess.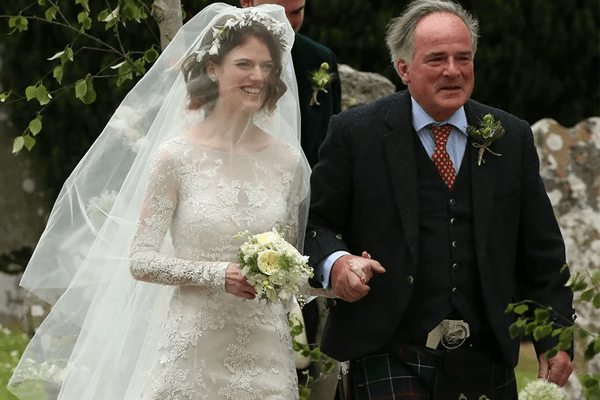 Rose Leslie accompanied by her father at her wedding.
Kit Harrington too looked dashing in his suit. He wore grey striped pants along with a lovely black coat, a cream-colored vest, and a black tie, which went perfectly with his pretty hair.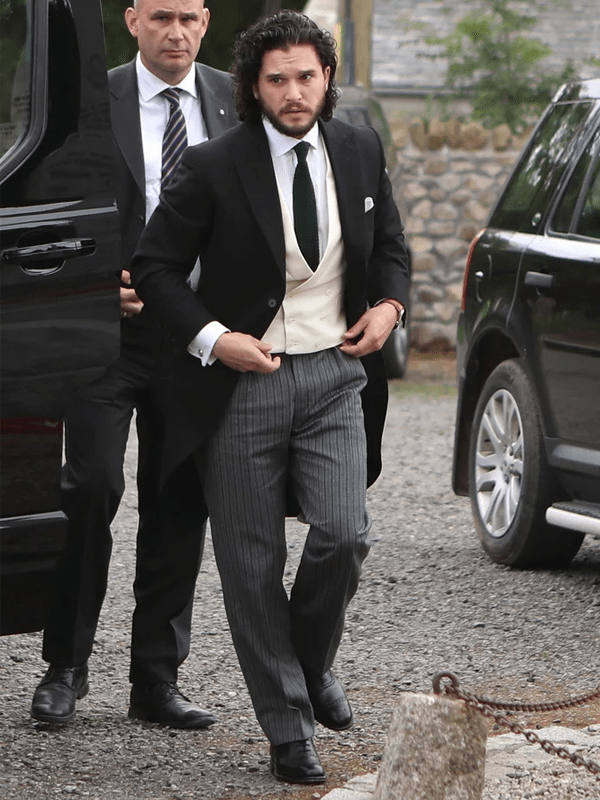 Kit Harrington (John Snow) looked stunning at his wedding.
The two exchanged vows as well as rings in front of the guests as the ceremony was as romantic as it could get. After the wedding, the couple drove off in a Land Rover DEFENDER to Castle Wardhill, one of the many castles owned by Leslie's family (I bet Bronn was drooling when he found out), located pretty close to the church.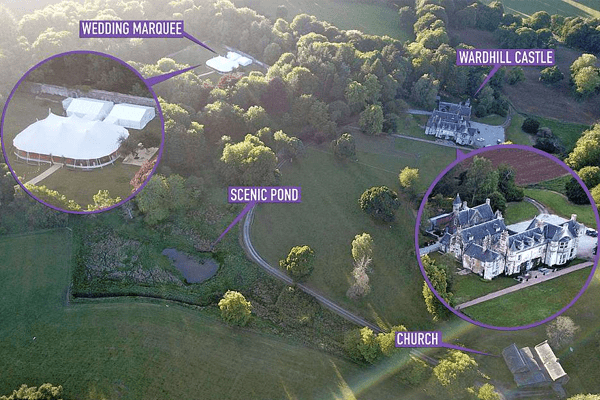 The wedding took place in Kirton of  Rayne Church whereas the reception was held in Wardhill Castle.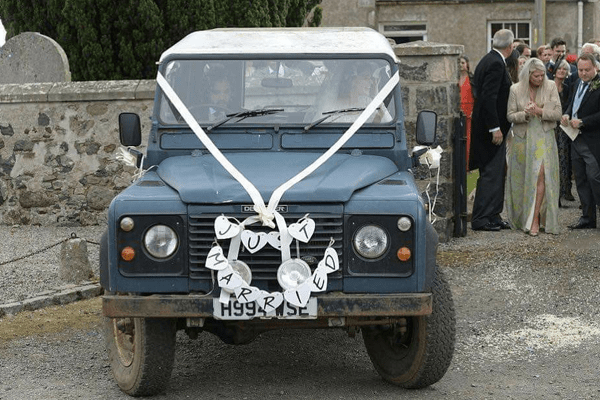 Kit Harrington and Rose Leslie drove off in a Land Lover DEFENDER after the wedding.
And the wedding reception was filled with a host of stars from the hit series Game of Thrones, the same show that put both Kit and Leslie on the map. Sophie Turner and Maisie Williams, who play Kit's sisters Sansa and Arya respectively on the show, attended the wedding and both looked stunning. Sophie wore a red suit along with black suits whereas Maisie was sporting a black jumpsuit with red heels.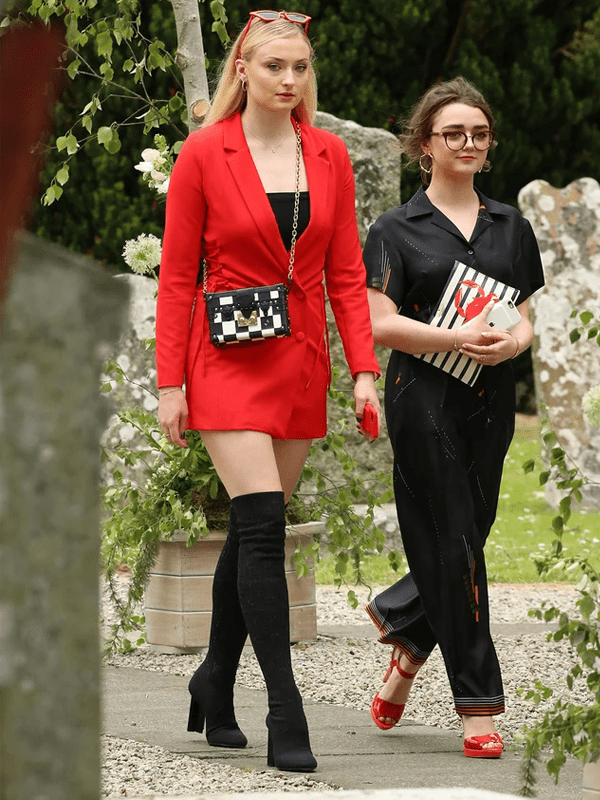 Maisie Willimas (Arya Stark) Right and Sophie Turner (Sansa Stark) looked stunning at the wedding.
Peter Dinklage and Emilia Clarke arrived in Scotland a day early for the wedding. Peter, who portrays Peter Dinklage, was sporting a blue suit whereas Emilia, the dragon queen Daenerys Targaryen from the show and Kit's aunt as well as his love interest, was wearing a casual one-piece dress with a pink coat.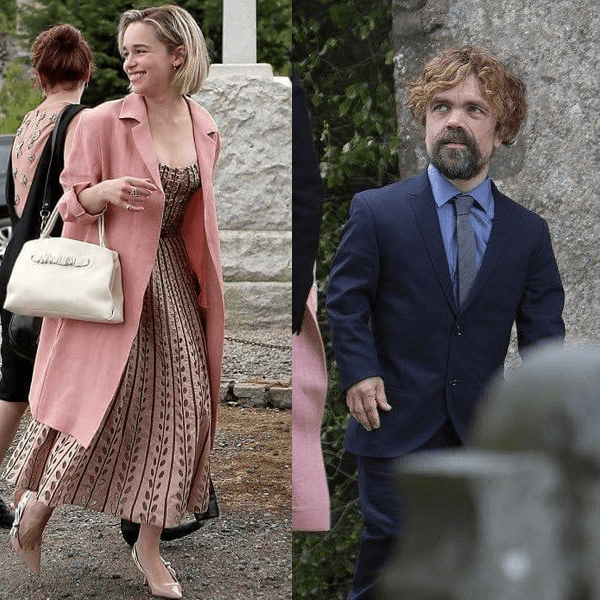 Peter Dinklage (Tyrion Lannister) Right and Emilia Clarke (Mother of Dragons) arrived a day earlier for the wedding.
Richard Madden, the young wolf Robb Stark from the show, sported a traditional Scottish skirt and a bag-pipe, as he is also Scottish by birth. Other guests at the reception included John  Bradley, Ben Crompton and many more.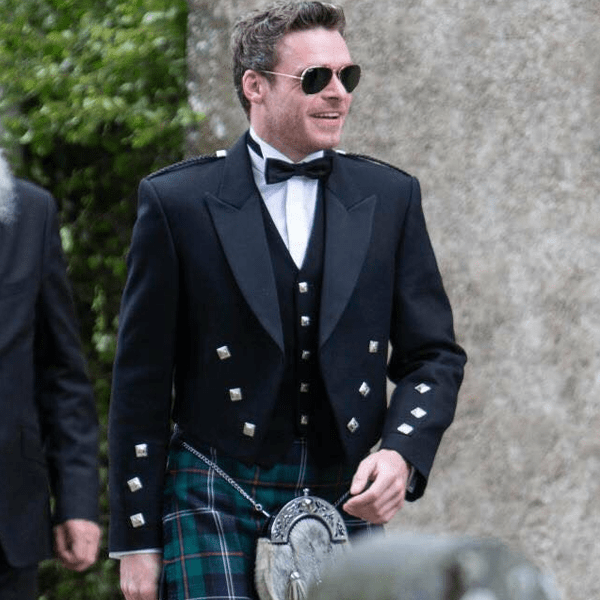 Richard Madden (Rob Stark)wore a Scottish attire for the wedding.
Leslie and Kit started dating in 2012 when the two were both a part of the Game of Thrones cast. After spitting up for a while, before they started dating again. they confirmed that they were together in April 2016.
Their engagement took place in September 2017, through an advert in The Times (The classic British way). As per Kit, he apparently botched his proposal (You know nothing, Jon Snow!). But now, all is well and the two are bound together for the rest of their lives.
Note: The source of all the images is Splash News.
For more news, biography, and entertainment visit SuperbHub.