Six people have lost their lives after a newly installed pedestrian bridge collapsed on Florida International University's Campus. A minimum of eight vehicles was crushed on the spot, first responder firefighters pulled out four deceased from the rubble, the toll increased to six.
Ten injured victims were transported to Kendall Regional Medical Center, it is reported that there were workers on the bridge when it collapsed but officials have not confirmed them among the dead.
The bridge had collapsed at around 1:30 P.M. Miami Fire rescue Chief Paul Estopinan stated on the press conference.  The rescued victims were admitted to the hospital had suffered from traumatic injuries, bruises, broken bones, abrasions but were in stable conditions.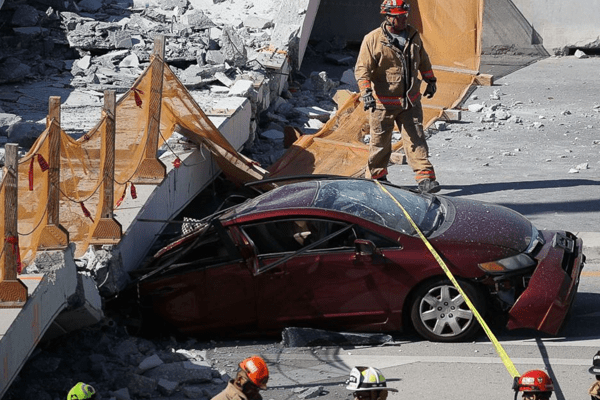 Image Source: Getty Images
Over 100 Firefighters were deployed on the scene to find and help the victims with cranes and dogs. The bridge was still under construction and supposed to be an iconic infrastructure of the city.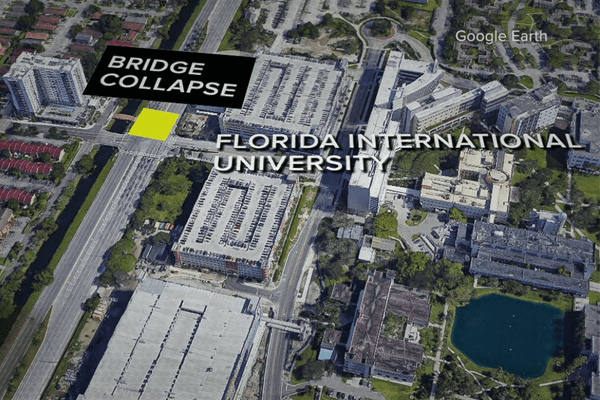 The bridge was supposed to open for pedestrians and cyclists in 2019
Located on the Southwest Eight Street stretching above a busy seven-lane road running from downtown Maimi to the Everglades. The bridge was built in an effort to boost safety on the busy street where an FIU(Florida International University) student was struck by a vehicle in 2017.
A fact sheet on FIU website reveals the bridge cost $14.2 million to build and funded by US Department of Transportation as $19.4 million grant. The bridge was designed in a way to withstand strength up to Category 5 hurricane and was supposed to have more than 100 years of lifespan.
According to FUI Press release, the bridge was 174 foot weighing 950 tons installed in a few hours using accelerated construction methods. This approach was made to reduce potential risks to workers, commuters, and pedestrians minimizing traffic interruptions.
President Rosenberg stated condolences on the tragic accident and has promised a thorough investigation to get to the bottom of the incident. NTSB(National Transportation Safety Board) is launching an investigation of the collapse setting a team of 15 specialists including civil engineers, material science, and survivor factor experts.
President Trump also tweeted on March 16, 2018, praying for the affected victims. He stated continuing to monitor the collapse at FIU and appreciated the first responders who rushed to the scene.
This incident takes place a month after the tragic Florida High School shooting on February 14, the deadliest school massacre resulting in deaths of 17 peoples all by bullets. The culprit Nickolas Cruz was charged with 17 counts of murder and 17 attempted murder. President Trump stated a notion to ban bump stocks and provide armed training to personnel in schools.
For more News and Entertainment: SuperbHub