One of the most creative, intelligent and rational humans on earth right now, Elon Musk has pegged in a massive amount of $1 million to Mr.Beast's biggest project ever to plant 20 million trees. MrBeast has collaborated with Arbor Day Foundation to reach this marvelous goal that everyone has been looking forward to.
The visionary entrepreneur and SpaceX founder has managed to impress the internet once again with his comments on the subject. With his area of expertise ranging from space exploration to dank memes, Musk is amazingly quick at catching up with trendy topics.
But How Did It All Start?
People had been anticipating MrBeast's decision for quite long already. With comments all over the videos suggesting him to plant 20 million trees as soon as he hit 20 million subscribers, most of the fans saw this coming.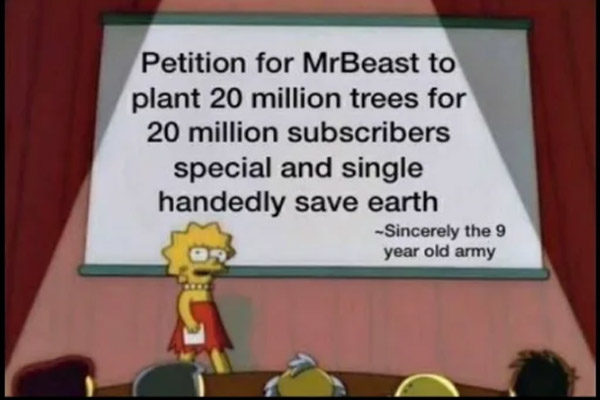 It all started when people petitioned MrBeast to single-handedly save the Earth. Image Source: Reddit.
They knew that it certainly wouldn't come off as something astonishing if he were to really do it since he is well-known for doing some ridiculously nutty things in the past like "Anything You Can Carry, I'll Pay for" or "Donating $100,000 to a random stranger."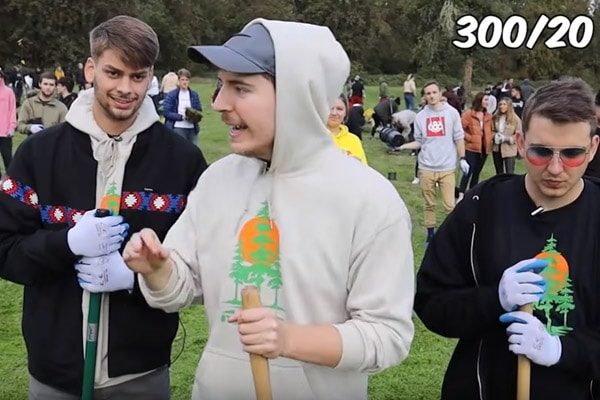 MrBeast has partnered up with Arbor Day Foundation to complete his 20 million trees campaign. ImageSource: MrBeast/YouTube.
So first lets put the fact that the Arbor Day Foundation are experts in planting trees efficiently and quickly and this fundraiser is sure to make a remarkable impact on our environment.  The whole internet broke after Mr. Beast released his video titled "My Biggest Project ever" with other YouTube content creators and fans hyped up to join the movement, #teamtrees.
Some Contributors Really Stood Out
After collaborating with his friends and Mark Rober, the NASA engineer responsible for putting the curiosity rover on Mars, MrBeast single-handedly donated a total of $100K on the first day.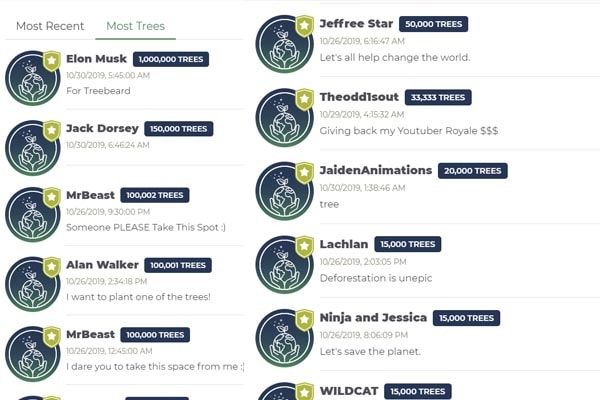 List of Highest Donators. Image Source: https://teamtrees.org/.
However, now the amount has shot up a $100,002 more after Alan Walker pitched in $100,001 to outshine Mr. Beast's amount.  Even Co-founder and former CEO of Twitter, Jack Dorsey participated in the event donating a whopping $150K and standing second on the chart of highest donators.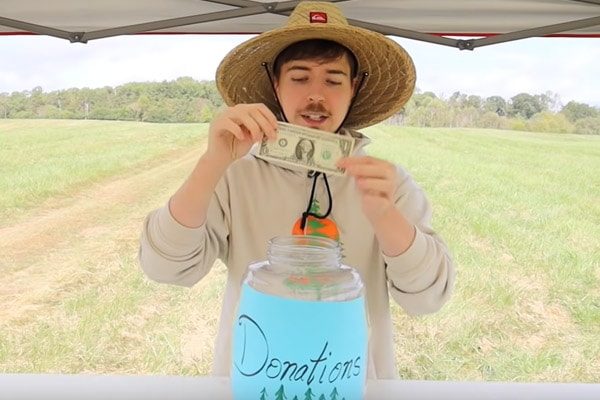 MrBeast pitched in a whopping $100K on the first day of the movement, #teamtrees. Snip Source: MrBeast/YouTube.
Furthermore, Creators did a multitude of insane things including Linus Tech Tips making a tree-planting cannon, Mark Rober granting $50K and creating a drone to plant trees and Jacksepticeye live-streaming his Minecraft gameplay and using the revenue from that to assist the fundraiser.
Not to mention, other myriad channels are trying to spread the information to millions of their viewers. Apart from the individual efforts, a search engine named Ecosia which uses the ad revenue from our searches for afforestation tried reaching out to Elon and the fans look even more thrilled by this.
Elon Musk, The Legend
Nevertheless, the intellectual, Elon Musk, as always claimed the throne by going out on a limb and donating a staggering $1 million to the foundation which certainly dropped all of our jaws.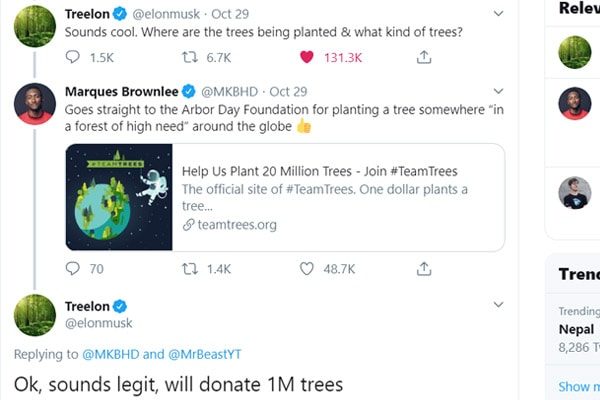 Fans went absolutely ludicrous after Elon's hilarious reply. Snip Source: Treelon/Twitter.
But then Marques Brownlee, one of the biggest Tech YouTuber explained the event, Elon stated calmly and composedly that it was legit and he was going to contribute to it. And here we are. The mind behind Electric car companies and Space Exploration, looking out for the betterment of our home planet and helping the biggest tree plantation event ever.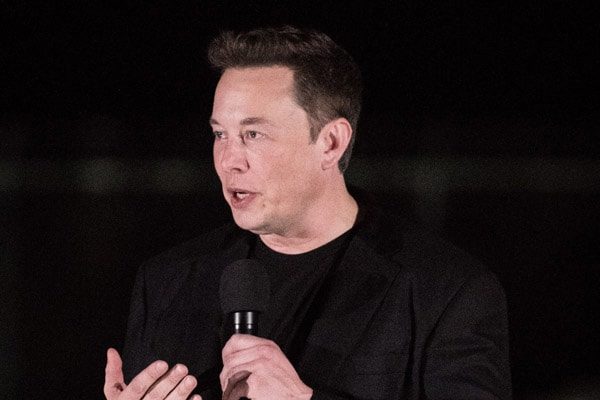 Elon Musk claims his position at the top of the donators list. Photo Source: Getty Images.
It's no wonder that he has asserted the top place on the table of highest donators. The comment section ran wild with a mixture of excitement, gratefulness, and joy and the fact that he changed his Twitter user name to TreelonMusk didn't seem to help contain the frenzy.
Reddit and Memes
But as usual, Reddit wasn't just going to stop and stare blankly at this spectacular event. People went ludicrous, memes flooded the pages and the fun quadrupled.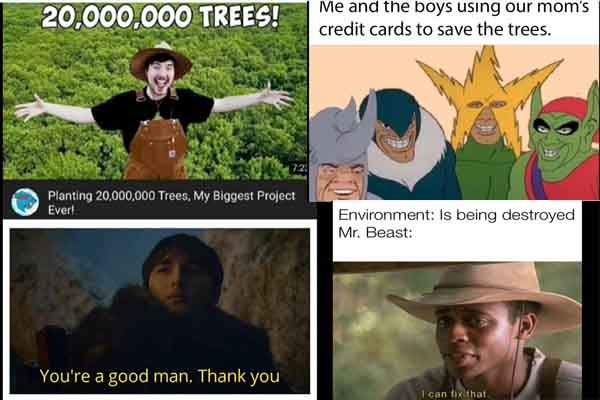 The Meme community has endless memes up their sleeves. Snip Source: King Kalos/YouTube.
Although the mainstream media didn't storm in to cover the topic, the memes aren't going to halt anytime soon, so buckle up, grab some snacks and keep scrolling down Reddit.
What's Next After This?
Everything aside, it's genuinely heartwarming to see the online community striving towards making a positive impact on the planet. To realize the fact that people actually do care about the environment and are taking steps to make sure it's sustained is truly comforting.
With everything that's been going on recently like the Amazon forest fire that lasted for days, unnoticed and the Boomers complaining about how we are the most spoiled and unproductive generation, this movement is honestly a firm stand against it.
Now, all we've got to do is grab the attention of the most influential people like Bill Gates, Tim Cook, Jeff Bezos, and people are on it.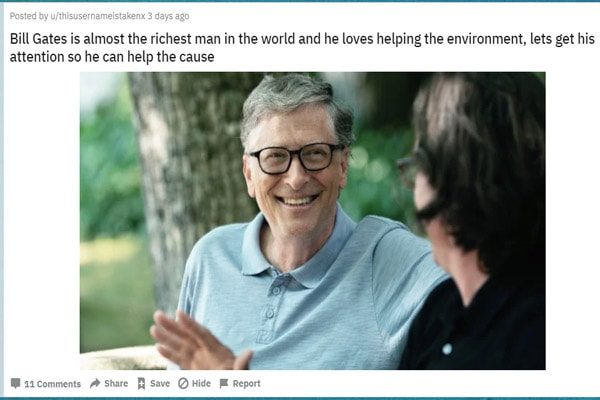 Fans are persistently trying to get the attention of some of the most influential people. Snip Source: Reddit.
The movement #teamtress which has successfully planted 7.7 million trees only seems to be growing day after day.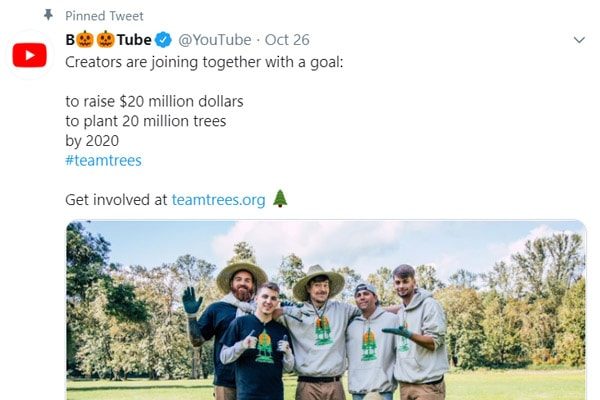 YouTube has rekindled hopes of fans by claiming to help the fundraiser. Snip Source: YouTube/Twitter.
Besides, even YouTube itself has pledged to donate a massive sum to the fundraiser. And Ecosia, one of the biggest afforestation organizations that has planted an aggregate of 72.7 million trees is reaching out to MrBeast and Elon to make this already incredible event, even more of a spectacle.
We are proud of you, every single contributor because no matter how small, every dollar matters when the contribution is collective.
Explore more news, entertainment and celebrity bios on SuperbHub.