Misty Copeland in her biography book presents her struggles and journey of becoming the first African America Female principal dancer of the American Ballet Theatre. Misty Copeland's Book Life in Motion presents from her first step as an anxious 13-year-old underprivileged girl to becoming America's most groundbreaking dancers.
Copeland's book is New York Times bestseller and a must-read for all women, dancers to executives. Read below the 8 lessons from the book Life in Motion.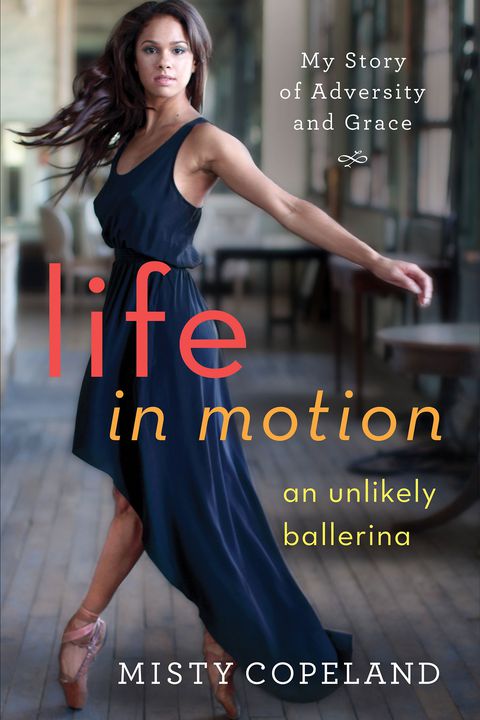 Image Source: Amazon 
Copeland starts her memoir with childhood struggles with little money and many stepfathers. The local people had seen the potential in Misty and encouraged her to take lessons and pursue her ultimate dream. In Misty Copeland's Book, she has openly described her mixed-race family difficulties and how she made dancing as an escape.
An outstanding example of a true prodigy, Misty would attempt on roles in moths which most dancers took years to master. Life in Motion is a story of passion, identity, and the pursuit of one's dream of a different life. Listed below are 8 lessons one can harness from Misty Copeland's Book Life in Motion: An Unlikely Ballerina:
1. Past can make one stronger.
In her book, Misty opens about her unstable childhood when she spent her earliest days in a motel in San Pedro with her with her siblings and mother. Constant shifting from one place to another caused her migraines and longing stomach pains.
Misty had a worrying nature and to hide her unstable home life at school she used to arrive early at class and keep up excellent grades. Copeland's childhood struggles trained her to stand and face every obstacle in life, her siblings are also excellent in their careers from lawyers to artists.
2. To embrace Criticism and not only praises.
Misty was a latecomer to Ballet but her special talent to mimic choreography earned her the title of Prodigy within months. She possessed the athletic ability and the ideal frame that made her a choreographer's dream. Misty started to progress and her instructors would not share the opinions of the initial supporters.
Always dedicated and looking forward Misty used to fight back by pushing herself to her limits. Her sheer determination earned a spot as second African-American soloist in the history of American Ballet Theatre.

3. Choosing a partner who makes you better 
Misty was very aware of her mother's history of on and off boyfriends and the consequences it led to the family. She then focused on perfecting her talent instead of dating.
Soon she met her Boyfriend Olu Evans, a lawyer and a perfect partner to support and guide Misty through her path. Olu used to prepare her for meetings with artistic directors and help her land prominent roles on ABT.
4. Answer when Prince calls you 
Misty has a bonafide ballet figure for over a decade, but Prince introduced her to the music lover and enthusiasts. Prince in his shy and mysterious way invited Misty to dance in his "Welcome to the America" tour.
Prince trusted her expertise and ideologies as a ballerina and allowed her to neglect the meticulous critics of artistic directors and build her own artistic accomplishments. Only a talented personnel as Misty could dream an occasional call from the Purple one.
5.Being different is a gift   
As an African American in the world dominated and designed mostly for prosperous individuals, Misty was a brown swan sailing in the plain sea of white ballerinas. As her body matured and her curves stuck out producers would decide to hide her copper complexions with makeup and others would refuse her.
The Dance Theatre of Harlem became her comforting solace as she would dance in the community that excepted and embraced her. Instead of letting the negative criticism dim her she fought back to shine much brighter as the world would see her. Misty recalls the inspiring words of dance pioneer Arthur Mitchell of Dance Theatre of Harlem,
"Walk into a room knowing that you are somebody special. Don't ever let them smash that or pull you down"
6. Music as a time for your escapes. 
Music served as a guide throughout Misty Copeland's Book Life in Motion and in her life as well. Wheather dancing to Mariah Carey's songs as a young girl or listening to Eminem's fueled songs in her earpiece walking in the streets of New York. Misty acknowledged the power of music to calm herself on and off stage.
7. Note down your Journey and see how far you've come 
Miles away from home and family, Misty noted and documented her every accomplishments, achievements, and hindrance in her journal. It's important to step back from the chores to enjoy your journey and see what you've achieved so far.
8. Do for the little brown girls
Throughout Mist Copeland's Book, she constantly chants her mantra "Do it for the little brown girls". The little brown girls are obviously our daughters and children and as a woman, everyone dreams of success. Some may have achieved their dreams while some are still in the hot pursuit of it.
Dreams may be nothing more than distant hopes we buried away with our childhood toys. Misty bring all her dreams and desires on stage and presents her artistry. Misty Copeland's Life in Motion serves as a beautiful chapter to Misty Copeland's story of success.
Misty Copeland endorses Under Armour in their women-focused campaigns and her performances on the American Ballet Theatre are sponsored by Valentino D. Carlotti, Copeland's 2018 performances.
Time listed Misty as the pioneer of The 100 most Influential people and featured her on the front page.       

Stay with SuperbHub for more celebrity news and entertainment.