Sometimes, all you need is a person by your side to change your life for good. But, that is possible when one cherishes their bond and relationship; only then, a long-lasting marriage/bond is made. Similar is the relationship between American rock vocalist, Sammy Hagar, and his wife, Kari Karte.
Let's get to know more about Sammy Hagar's wife and the mother of two more in this article.
Who Is Sammy Hagar's Wife, Kari Karte?
The curly head, rusty voice owner, Sammy Hagar, managed to woo the blonde beauty, Kari Karte, since the early 90s. Hagar's wife is a producer known for her work in Ram Dass, Going Home, Rock & Roll Road Trip with Sammy Hagar, and Sammy Hagar & the Circle Live: At Your Service.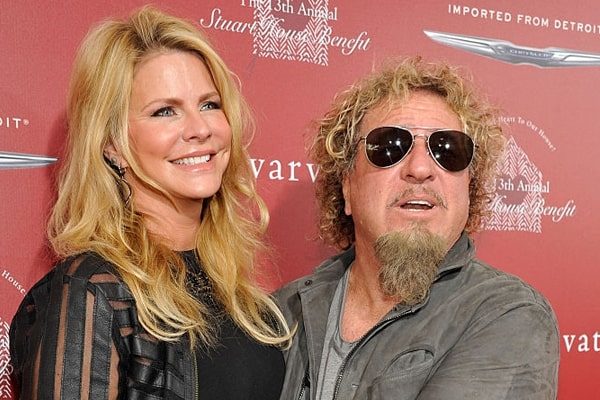 Sammy Hagar's wife is a talented hazel-eyed woman with a beautiful soul. Image Source: Getty Images.
The beautiful Kari Karte was born on January 7, 1967, in the USA. According to her IMDb, she has three credits as an executive producer, one as a camera operator. Furthermore, there isn't much to Sammy Hagar's partner, Karte's life, but she must have had a good childhood and now has a beautiful soul.
How Did Sammy Hagar Meet His Wife, Kari?
It's astonishing how people meet at a time and fall head over heels at the same moment. According to Van Halen News Desk, the couple had met while Van Halen's tour in the early 90s. The former Van Halen's vocalist, Sammy Hagar, invited his to-be wife, Kari, along with him and Eddie Van Halen, to judge a bikini contest in a bar.
Sammy Hagar flew his then-girlfriend, Kari, to the band's next show. According to Jack F.M, it was not the love at first sight for Sammy Hagar but changed his mind when he saw her feet. Kinky! They dated for a couple of years and decided to get married on November 29, 1995.
View this post on Instagram
The wedding took place on Mount Tamalpais in Marin County, California, above Hagar's home. The guest list included Hagar's mates, Whoopi Goldberg, Eddie Van Halen, Valerie Bertinelli, Alex Van Halen, Mike Anthony, and their wives. The ceremony was beautiful, and the couple shared their vows between friends and families.
And then as time passed by, Sammy Hagar's partner gifted him with two lovely baby girls, Kama Hagar, in 1996, and Samantha Hagar in 2001.
Kari Karte Hagar did an excellent job nurturing her children as their oldest daughter; Kama Hagar has begun her organic skin products called Mukama Botanica. The Yoga enthusiast looks to be doing good for herself. Sammy Hagar's daughters are very close and supportive.
Children are the blessings for a married couple, and that increases their intimacy and understanding. Therefore, after having two gorgeous girls and 25 years into marriage, the couple still manages to fall in love with one another every single day. Sammy Hagar shares a lot of pictures of his magnificent partner with cute captions via Instagram.
Sammy Hagar's First Wife
Although Sammy Hagar is happy with his wife of 25 years, Kari Karte, he was once married to Betsy Berardi. The former pair married on November 3, 1968, when Sammy was just 21 and welcomed their son, Aaron Hagar, in 1970. Likewise, they welcomed their second son, Andrew Hangar, in 1984.
As it is said that a thing or a person is bound to change all the time, Sammy's faithfulness changed too. According to his autobiography, initially, he was faithful to his wife, but during the height of Van Halen, every member had their sex tents. And he had about 75 women a week going through until he met Jim Kelly's girlfriend at the time, Kari.
There started the extra-marital relationship between Kari Karte and Sammy Hagar. He and Betsy separated after 26 years of marriage in 1994. Sounds painful!
Everything folded well for all the people involved in the situation. Sammy Hagger's ex-wife must be living a life of her own while he is enjoying his blissful marriage with Kari Karte since 1995. Let's hope their relationship lasts for as long as the universe stand.
Don't Miss To Follow SuperbHub For More Updates On Celebrity Entertainment, Biography, and News.