Born as Marcedes Alexis Lewis, the NFL player, Marcedes currently plays for the Green Bay Packers. He was the Jacksonville Jaguars' first-round pick of the 2006 NFL Draft.
Although Marcedes's career is robust and ready to hit several milestones, he does not seem prepared for a committed relationship. Henceforth, let's know more about why and how Marcedes Lewis and Olivia Pierson parted ways.
Began Dating in 2016
Relationships are very unpredictable. Thus, it happens in the most unprecedented time and manner. Similar was the love story of NFL player Marcedes Lewis and WAGS star, Olivia Pierson.
The former couple reportedly started dating in 2016. Unfortunately, there aren't many details on how Olivia and Marcedes met, but their relationship blossomed very soon.
Interestingly, Marcedes Lewis's ex-girlfriend, Olivia, became a cast on WAGS solely based on their relationship. But did you know their entire relationship is tagged as 'show stunt'?
Well, that's the story for the next time, but here is not good news either. Although the former athlete pair supposedly saw one another and got serious about their relationship, they did not boast their love on social media.
In the end, Marcedes and Olivia's relationship did not have a Disney's fairy tale ending either.
Publicly Broke Up After Finding Marcedes 'Shady'
Well, it takes efforts from two people in a relationship to make it work seriously. Frankly, it's a barrel bridge; one needs to balance before one reaches the destination.
Sadly, Marcedes Lewis and Olivia Pierson could not balance their wilderness, which concluded their relationship within a few months of dating.
The even sadder thing is that it happened exclusively on a reality show. Olivia ended the relationship after she found her then-partner, Marcedes, at a party in LA.
Olivia confronted Marcedes claiming he wouldn't pick her calls, and lied to her about training for his game. This became the last straw for the Internet star, followed by innocent flirts with Tia Shipman and suspicious pictures with Sophia Pierson.
According to E!, Olivia Pierson's ex-boyfriend, Marcedes, also bailed on being her date to Barbie Blank's wedding at the last minute. However, he still had time to exchange a few words & phone calls with Olivia's sister.
Thus, the end of Marcedes and Olivia's romantic story must have been the best for both individuals. However, are they dating anyone now?
Who Are Marcedes and Olivia Dating ATM?
No, as in, we wouldn't know. After Marcedes Lewis and Olivia Pierson's public split, they decided to keep their relationship status low.
However, Olivia revealed that they are open and honest about their relationship but will see their respective significant others 'to a degree.'
Furthermore, after the bitter split, WAG's star, Olivia, posted a picture of herself with Joel Embiid in 2017 but was shut down by him after. Moreover, the sweet Valentine's Day caption was changed to #fake thereafter.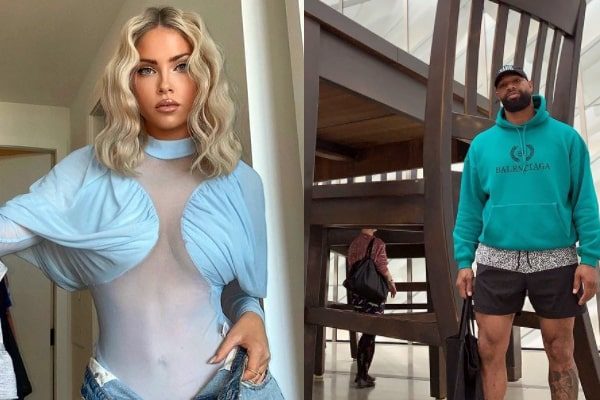 After their split, Olivia uploaded a picture with Joel Embiid in 2017. Image Source: Olivia/Marcedes' Instagram.         
On the other hand, Lewis is barely active on his social media and is about being professional all over. Therefore, we wouldn't know if they've started dating again unless they decide on saying it themselves.
Above all, did you know that Olivia and Marcedes' relationship was a big question from the start?
Was It All Real?
Well, the timing was very bizarre for a few people. Furthermore, their split raised the question regarding their relationship and 'connection.'
According to Jezebel, there is a degree of recklessness many reality shows, including WAGS, employ to make the show better. Moreover, it blatantly revealed its dissatisfaction claiming the second season of WAGS followed by the 'fakest relationship.'
View this post on Instagram
The article further questioned their connection and if they spent more than a total of 72 hours together. Well, when you read the piece and go back and re-watch the episodes, it does look phony, but who are we to judge their way of handling relationships, isn't it?
If you got opinions, spill them down in the comment box. For us, it's the individual's choice. Thus, Marcedes Lewis and Olivia Pierson's split made a massive fuss within the WAGS fanbase, and let's admit it; it was a little adrenaline rush.
As of now, Mercedes Lewis's ex-girlfriend, Olivia Pierson, focuses on her career while the athlete is playing for Green Bay Packers. Hence, let's hope to hear more of their relationship chronicles in the future, with their respective partners, obviously.
Don't Miss To Follow SuperbHub For More Updates On Celebrity Entertainment, Biography, and News.