Rosae Wilkos and Hannah Wilkos were the ex-wives of Steve Wilkos. Wilkos divorced with his wives because of trust issues. He did not have any children with these women. During that time, he was involved in an affair with the television producer, Rachelle Wilkos, with whom he is, currently, enjoying a healthy marriage life, along with two beautiful children.
Steven John Wilkos, also known as Steve Wilkos, is a TV show host. Born on March 9, 1964, he runs a show named, The Steve Wilkos Show. He has also worked in the US Marines and as a police officer in Chicago. On January 21, 2018, Wilkos was involved in a deadly car crash and miraculously survived.
Rosae Wilkos and Hannah Wilkos
Rosae Wilkos was the first wife of Steve Wilkos. The couple got married in 1985 but, their marriage could not last long. Their relationship got sour and both had to split up on 1987. The reason behind their divorce is still unknown, but, it is said that they had to break their relation because of the lack of trust between them. The divorce was not difficult for both of them as they did not share any child.
Hannah Wilkos was born on March 9, 1964. She was the second wife of Steve Wilkos. Steve Wilkos tied the knot with Hannah somewhere during the 1990s, but the exact date is unknown. This bond also could not last long, and again the couple broke up in 1999. It was during this time when he became closer with Rachelle.
Steve's wife Rachelle Wilkos
Rachelle was the woman he was attracted to and gradually fell in love while working for his new television job. Steve and Rachelle's love grew deep and hence, they both got married in 2000, a year after Steve's last divorce. Rachelle was a television producer then.
In an interview with the Celebrity Parents Magazine, Steve Wilkos stated that the duo  met in 1995. Rachelle was a producer on 'The Jerry Springer Show'. And Steve was in Security. While working together, Steve got to know her as a person, as a woman and as a producer. He then fell in love with her way before the pair actually started dating.
Rachelle and Steve Wilkos share two children, Ruby and Jack. Ruby Wilkos was born on October 14, 2003, and Jack on June 19, 2005.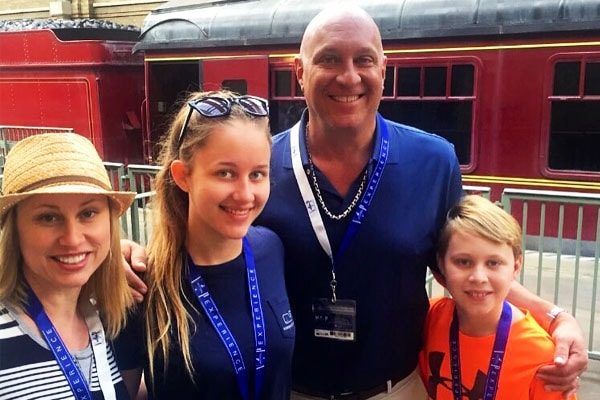 Steve Wilkos with his family. Image Source: Pinterest
Steve Wilkos has worked with Jerry Springer for 13 years. Wilkos is also still running and hosting his TV show.
For more News and Entertainment: SuperbHub