Chris Heisser, the name came into light when 'Melrose Place' actress Heather Locklear got arrested with domestic violence charge in February 25, 2018. She was alleged to have physically assaulted her living-in boyfriend Heisser. So what is Heather Locklear's boyfriend Chriss Heisser profile and why is he Heather's favorite person in the world?
Chris Heisser is a former AMA Motocross Racer and a contractor who happens to be Heather's High School sweetheart. But the couple have not been together since. They went their own different ways, got settled with different partners but are together again.
Heather Locklear's  Living -In boyfriend Chris came back to Heather's life just after she broke up with her plastic surgeon boyfriend Marc Mani, in 2017.
Also Read: Chris Heisser Domestic Violence Case
Heather and her first love Chriss Heisser rekindled their romantic relationship after forty-one years as she mentioned in her Instagram post.
Let's know more about Heather Locklear's boyfriend, Chris Heisser who moved in Heather's Thousand Oaks mansion.
Chris active as a Motocross Racer in 1980
Parting ways with Heather after high-school, Chris Heisser chose to become a star as Motocross racer. He was successful racer to ride his Honda bike nicknamed Tin Can Honda because it contained an aluminum gas tank.
It was a hand-built bike and Chris had mentioned to Vintage Factory that he with his team had cut, increased rake, decreased trail, lowered the motor, extended the swing arm, adjusted the shock mount position, and other changes with a stock Honda Frame.
Heisser added he got fourth and fifth in the nationals the year he built and rode the bike.
Heisser has a Criminal Background
According to Radar Online, Heather Locklear's boyfriend Chris had multiple criminal cases including theft and forgery arrests in the past. In 2011, Heisser criminal case was filled with over forty forgery counts and corruption records. He was in prison for two years for the charges in Riverside California in the same year.
Chris was known to have done business transactions illegally and was also involved in grand theft and personal identity theft. Chris was doing an act of being an old-contractor to build two luxury million-dollar homes in California.
During the police investigation, the team found Chris had forced one of the homeowners to signed the document for a home loan and collected hundreds of thousand dollars from the mortgage company.
He is father of Four kids
Chris is a married man and a father of four children. Chris's son from his past relationship chose to be a Motocross racer like his father. Chris's children were never happy with their father because he was having an affair with Heather.
Heather might not be the only reason that  caused Chris's marital life to end as he was also dating Dawn Willoth while he was still in a relationship with Heather.
Relationship with Heather
Chris went to Newbury Park High School where he met Heather. Both also attended school prom together as a couple. Soon Chris became Heather Locklear's boyfriend. But they might have split their ways after High School.
Heather had already been married twice with ex-husband Tommy Lee, Motley Crue drummer from 1986 to 1993 and with Richie Sambora, Bon Jovi guitarist from 1994 to 2007. She also has a daughter, 20-year-old Ava from ex-husband Richie Sambora.
Melrose Place star Jack Wagner was also Heather Locklear's boyfriend for a long time. The couple were reported to have been engaged in 2011 but split soon before marrying. Reason? Very similar to the most recent one. Heather being physically violent while arguing with Wagner as reported by TMZ.
And after split with Marc, in September 2017, Heather posted the photo of Chris on her Instagram wishing him happy birthday where she mentioned him as a first and final love.
Heather has also mentioned Chris as a favorite person in the earth after a long time.
Heather's family had also mentioned that they knew  Chris and Heather have rekindled their relationship but was not sure if they were right for each other.
Also read: Heather and Chris toxic relationship to Rehab
Recently, the couple came in the limelight because of their fight. As mentioned earlier, Heather was  arrested from her house in California for abusing boyfriend Chris and attacking three deputy officers in February 25, 2018. They fought in front of Heather's daughter Ava and Heather's brother had informed the police about the fight as mentioned by Page Six.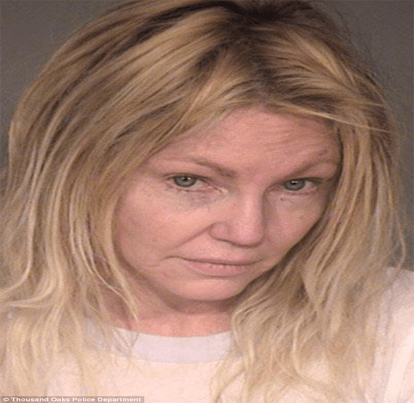 Heather mugshot after being arrested for assaulting boyfriend Chris Heisser. Image source: Daily Mail
She was immediately released the next day with $20,000 bail whereas, Chris was arrested for Driving Under the Influence charge at 1:41 AM and released at 8:41 AM.
Also Read: Heather Locklear's net worth
Heather has a history of substance abuse. And her family wants her to visit rehab, get treatments and be a better person. Locklear, however, have visited rehab for six times.
Heather Locklear's boyfriend also went to rehab, together with Heather for drug and alcohol abuse over the holidays.
And he was also reported to be cheating Heather over other women named Dawn Willoth, as reported to Radar by Willoth's ex-husband. 
Where will the toxic relationship between Heather and Chris will head is yet to be known
For more Entertainment, Stay Tuned with SuperbHub