The 56-years-old American actress Heather Locklear was arrested on Sunday from her California home, where she was living with her long time boyfriend, Chris Heisser. She was arrested on domestic violence charges. And the victim was Chriss himself.
According to People,  Heather Locklear's boyfriend Chris Heisser was also arrested just after an hour of Heather's arrest. It first felt like their violent, crazy love relation was going to continue in rehab. Well, let us have a look at their relationship.
Relationship To Rehab
Heather Locklear and former contractor and former AMA motocross, Chris Heisser were in love affair since their high school. They moved on with their life separately after school but got back together after Heather's split with Marc Mani, her ex-boyfriend.
Well, Locklear was charged with domestic violence involving her sweetheart, Chris. She was arrested on February 25, 2018 after fighting with her boyfriend and attacking cops. Heisser said that Heather started attacking him being all wild and angry while he was on bed.
Also See: Heather Locklear Abused by Chris Heisser
The 56-year-old Locklear was taken into custody by the Ventura County Sheriff's Office at her Thousand Oaks home late on Sunday night.
Also See: Heather Locklear Net Worth
Later, she was released on bail early Monday morningbut was charged with four counts of misdemeanor battery on a police officer. Her presence on court was due till March 13, 2018.
Ventura County deputies arrested the Melrose Place actress at 10:27 a.m. Sunday. She then went to hospital, got medically cleared before she was booked into the country jail at 1 a.m. and was released at 5:48 a.m. after $20,000 bail.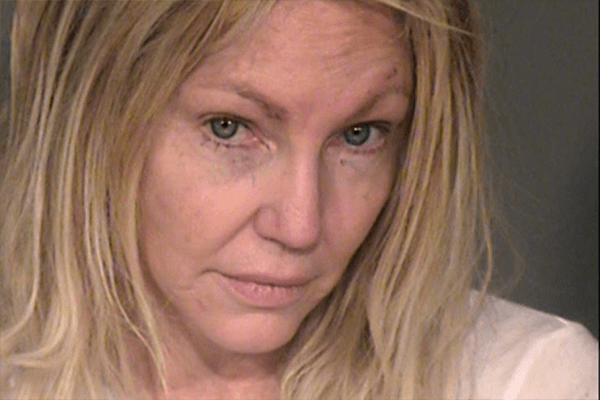 The 56-year-old, Heather Locklear was arrested on Sunday night on February 25, in Thousand Oaks, California. Image source: AOL
Likewise, Heather Locklear boyfriend Chris Heisser was booked into the Venture County jail at 1:41 a.m., on the DUI charge and was released at 8:41 a.m.
Heather Locklear's Boyfriend
Though the couple was in rehab together, the couple has been dating for several months, as they usually shared their loving pictures on her Instagram.
The lovebirds started dating after Locklear just split with her ex-boyfriend, plastic surgeon Marc Mani, which was for three years.
However, the pair hints their love in September 2017, by captioning a shot of the pair on her Instagram.
Be tuned with SuperbHub for more Celebrities Entertainment and Biography.