Andrew P. Buckley Jr. aka Andy Buckley is an American actor, screenwriter, and broker. Well, he is popular for his role on the NBC comedy series The Office. Born in Buckley, Andrew started his acting career in 1990 and has been actively working in the entertainment industry.
Besides having a thriving career, Andrew P. Buckley Jr. has been married to Nancy Banks. The Buckley-Banks couple has been enjoying a blissful marital life for several years in silence, which intrigued Buckley's fans. Similarly, Andy Buckley's wife Nancy Bank deserves some recognition, which is why we welcome you to the informative plethora.
Hope you enjoy the ride.
Who Is Andy Buckley's Wife, Nancy Banks?
Andrew P. Buckley's partner, Nancy Banks, is a very talented individual. Although Nancy stays away from the media's approach, she is never too far from the entertainment industry.
So who exactly is Andrew Buckley's wife, Nancy? FYI, she is an actress cum acting coach. According to Nancy Bank's IMDb, she has at least 28 credits as an acting coach. She assisted some notable names in Hollywood, including Zac Efron, Rachel McAdams, Jennifer Aniston, Jack Huston, etc.
Moreover, Nancy also has a few acting credits during the 90s, including The Big Day, Jitters, North of 60, etc. Furthermore, Nancy Banks is also the owner of Nancy Banks Studio. She has been working as an acting coach since 2000.
Gaining a bachelors' degree in English and Theater Arts from York University, Nancy Banks arched her way towards an acting coaching career. According to Nancy Banks' site, she studied acting with Larry Moss for ten years.
Furthermore, Nancy aspires to bring out the meaning of the scripts by teaching them script analysis and encouraging actors to stamp a performance with their unique interpretation of the material.
Also Read: Jerry Sloan's Wife, Bobbye Sloan Battle With Cancer Before Death
Andy Buckley and Nancy Banks' Married Life
Well, Andrew P. Buckley is often secretive about his personal life and prefers to keep them private. Therefore, we do not have much on the couple's wedding date of their location. However, they have been together for a long-run and have been very supportive of each other's career.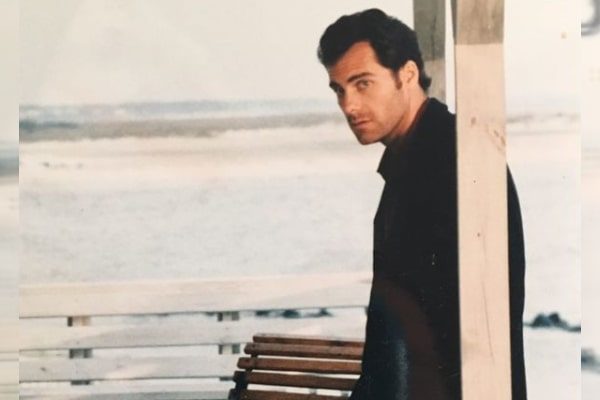 Andy and Nancy Banks are private about their marital life. Image Source: Andy's Instagram.
Furthermore, Nancy being an acting coach, assists Andrew when in need. During an interview, Andrew proudly talked about his partner's career span and gushed about her achievements linking with Jared Leto's Oscar for Dallas Buyers Club. Andrew further revealed that they are typical partners.
Furthermore, Nancy-Andrew's romance is off social media, and Nancy's Instagram is private. Well, FAME doesn't translate to 'YOU HAVE NO PRIVATE LIFE.' Therefore, Andrew Buckley's wife, Nancy Bank's choice of privacy is understandable.
Welcomed Two Kids With Andrew
The proverb, 'the apple doesn't fall too far from the tree' is an accurate explanation of the Buckley family. The couple never disclosed their marriage date and kept their babies a secret most of the time.
Thankfully, the Buckley couple revealed that they have two kids together, Benny Buckley and Xander Buckley. Except for the boys's names, both Andrew and Nancy are mum about their babies' whereabouts.
Despite the invisible wall of protection, the Buckley family lives a comfortable life in LA, California. Both Andrew and Nancy are successful in their respective careers and might have a net worth of millions. Therefore, let's hope Nancy makes her appearances in the coming days.
Don't Miss To Follow SuperbHub For More Updates On Celebrity Entertainment, Biography, and News.