Considered one of the most praised coaches in NBA history, Jerry Sloan became one of only four coaches with a 15+ consecutive winning record. Besides living a glorious life, Jerry Sloan was married twice throughout his lifetime.
Jerry Sloan and Bobbye Sloan were married for more than 40 years until she died of cancer. That's a sad ending of a love story but worth looking back at. Therefore, let's read more about Jerry Sloan's wife, Bobbye Sloan, and their love story.
Jerry Sloan's First Wife, Bobbye Sloan
Aforementioned, Jerry Sloan was one of the greatest coaches in NBA history. After marrying such a legend, Jerry Sloan's wife, Bobbye Sloan, rose to fame. However, Bobbye always remained private about her whereabouts.
Besides being known as Jerry's wife, Bobbye received a Registered Nursing degree from Barnes Hospital in 1963.
The Sloan couple were high school sweethearts. According to David Lee, Jerry Sloan, and Bobbye Sloan were sophomores when they first met, and they never separated. Interestingly, Jerry knew their relationship was going to be a unique love story. And it did.
The pair got married in 1963 amongst friends and families. David further talked about his distinct memories of Jerry holding hands with Bobbye. Although the couple drifted briefly because of Jerry's career, their love re-ignited when Bobbye got breast cancer.
Bobbye Sloan Endured Cancer For Five Years
Former Utah Jazz's coach, Jerry Sloan's wife, Bobbye Sloan, was a vibrant person and easy to talk to. However, Bobbye was diagnosed with breast cancer in the late 90s.
Mrs. Bobbye Sloan fought back cancer, but several years later, a tumor was detected in her pancreas. The Sloans were inseparable since cancer and faced every obstacle together.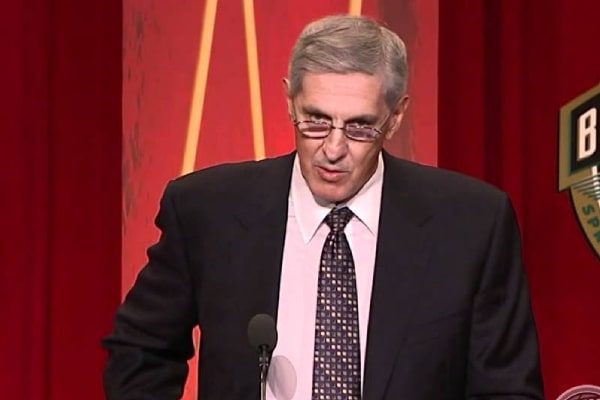 Jerry Sloan and his wife, Bobbye, were inseparable after a cancer diagnosis. Image Source: Social Media.
Moreover, according to David Lee, they were always seen holding hands. According to Deseret News, Jerry Sloan's wife, Bobbye, knew her fate but was determined to accompany her husband as long as possible.
Unfortunately, Jerry Sloan's wife, Bobbye Sloan, succumbed to cancer at age 61 on June 18, 2004, at St. Mary's Hospital in Evansville, Indiana.
Bobbye Sloan Against Cancer
Surviving breast cancer the first time, Jerry Sloan's beautiful partner worked on several campaigns against breast cancer.
She further appeared on Oprah, NBC, McCall's Magazines, etc. calling on women to take care of their health. She publicized the Susan G. Komen Breast Cancer Foundation's Race and served as Honorary Chair for two years.
Jerry Sloan's deceased wife also walked in the National Race for the Cure in 1999 and was chosen by  Zeta Tau Alpha National Fraternity, acknowledging her work with the Komen Foundation.
Therefore, dare not assume Jerry Sloan's wife only as a cancer survivor because she not only advocated women's health; she allowed herself to overcome obstacles bravely. Kudos to Bobbye Sloan's soul.
Mother Of Three Kids
As mentioned, the Sloans were together since they were sophomores. The couple were married for more than forty years and welcomed three kids together.
Born to Robert K. Irvin and Lois (Troutt) Schwarz, Jerry Sloan's late spouse welcomed her son, Brian Sloan, in 1955, followed by daughters Kathy Sloan Wood and Holly Sloan Parish.
Jerry Sloan's son, Brian, supported his mother's condition and assisted his father. Bobby's death must have sent a great shock to the kids, but they recently lost their father as well.
Therefore, we wish the best for the Sloans family and hope Jerry Sloan's wife Bobbye's soul rest in peace.
Don't Miss To Follow SuperbHub For More Updates On Celebrity Entertainment, Biography, and News