Lindsay Lohan is an American Actress having an appearance in films, music, and television series. Lindsay Lohan's movies were receiving an excellent response before her never-ending issues with drugs and alcohol. Lohan, active in the entertainment industry since 1989, got addressed with her legal problems in 2007.
Besides an actress, Lohan is a Singer. Pop rock, teen pop, and dance are her significant genres in the musical sector. Lohan successively entered into the entertainment industry passing through child fashion model, motion picture, movies, and several songs. Freaky Friday (2003), Mean Girls (2004) alongside Lizzy Caplan, Fully Loaded (2005), etc. are the commercially successful Lindsay Lohan's movies.
Actress Lindsay Lohan was born on July 2, 1986, to father Michael Lohan and mother Dina Lohan in The Bronx, New York, United States. Her father is an American Television Personality whereas her mother is an American Entrepreneur, Manager, and Television Personality.
She grew up with her mother as her parents separated in August 2007. Lohan is elder to four siblings named Michael Jr. (1987), Aliana (1993) and Dakota Lohan (1986). She raised in an Irish Catholic family.
Lindsay joined Cold Spring Harbor High School following Sanford H. Calhoun High School. Next, Lohan completed her grade 11 scoring good marks both in Science and Mathematics. Then, she started homeschooling.
Why is Lindsay Lohan still the matter of media attention?
Lindsay Lohan is a renowned actress who had started her journey as a child artist at the age of three. Since then, she is in the media attention with positive and negative reviews.
She started her professional career through modeling career engaging with Calvin Klein Kids and Abercrombie. In the meantime, Lohan appeared in over 60 television commercial for several bands including Pizza Hutt, Wendy's and Jell-O. Successively, she involved herself in the television soap opera Another World, Soap Opera Magazine.
Then, Lindsay landed in the entertainment industry through the Disney's family comedy The Parent Trap (1998), remake of 1961 movie. The movie, where she has a dual role of twin, led her to earn $92 million worldwide along with the extensive positive reviews.
Besides, she also won Young Artist Award for her outstanding performance in a feature film plus got a three-film contract with Disney.
At the age of 14, she arose in the pilot episode of the short-lived series Bette. But she resigned when the production moved from New York to Los Angeles. Next, she starred in two television movies Life-Size (2000) and Get a Clue (2002).
By the year 2003, she then appeared in the Disney's family comedy Freaky Friday, which serve her to earn 2004 MTV Movie Awards for Breakthrough Performance. And it also remained her as the most successful film, making $160 million worldwide.
The following year, Lindsay Lohan played Disney's teen comedy Confessions of a Teenage Drama Queen. The movie also hit the commercial success earning domestic box office total of $29 million. Further, she also received positive comments.
The same year, her second appearance was on teen comedy Mean Girls. The movie with a distinct character led her to commercial success earning $129 million worldwide. She received positive feedback for her performance and renamed as the teen movie queen.
The above mentioned Lindsay Lohan's movies, helped her to come into the spotlight. And Lindsay Lohan's movies appearance results in the increment of her net worth.
Then, she hosted Saturday Night Live's Not Ready For Prime Time Company for three times between 2004 and 2006. Eventually, she became the youngest host of the MTV Movie Award in 2004 and hosted the 2006 World Music Awards.
Back then, Lindsay made her appearance in the comedy Herbie: Fully Loaded (2005) grossing $144 million worldwide along with the mixture reviews. Later, in the year 2006, she appeared in the romantic comedy Just My Luck. But unfortunately, the movie received negative results listing her under Golden Raspberry nomination for worst actress.
The following year, the more release of Lindsay Lohan's movies, the more she began to receive negative reviews. Also, Lindsay Lohan got arrested in charge of driving under the influence of alcohol. Eventually, health became worst and paid a higher loss to Lindsay Lohan. She also joined several rehab center to date.
For the second time, in July, Lohan again got arrested in charge of possessions of cocaine and driving with a suspended license. Later, she made a statement, "My life has been completely unmanageable."
Similarly, as per violating her probation, she sentenced to 90 days in Jail. However, she spends only 14 days in the Jail due to overcrowding.
Following several problems, Lohan finally appeared on the October 2010 cover of Vanity Fair claiming "I know I am a damn good actress and I want my career back." Likewise, she spent some days in Jail again in September 2010.
Apart from the abuse of alcohol and drugs, Lindsay got charged as the theft of a necklace in February 2011.
In 2014, Lindsay aired on the Oraph Winfrey Network, the docu-series Lindsay. The same year in October 2014, she made a stage debut Speed-the-Plow. But she could not receive any positive feedback from the audiences. Instead, The Time wrote describing, "She cannot act a bit."
Finally, Lohan announced she is going to start a lifestyle site called Premium by June 2017. Thus, Lindsay is receiving the media attention for her both positive and negative reviews.
Apart from Lindsay Lohan's movies appearance, she has her own several music albums and their singles. Lindsay released her first song titled Ultimate, for her film Freaky Friday, being at the 18 on Radio Disney's Top 30 in 2002. Then, back in 2003, she recorded four songs including Drama Queen (That Girl) for her film Confessions of a Teenage Drama Queen.
Finally, her first debut album released on December 7, 2004, titled Speak in the United States. The song led her to the highest position standing as the first high-seller from Casablanca Records selling 1,000,000 units in the United States.
Though the album stands as a commercial success, she mostly received negative reviews commenting, "Lohan is not a bad singer but is not an extraordinary singer either." As a business review, the album peaked at the number four on the Billboard 200 selling 261,762 copies in its first week.
After the successful business, she then released her singles titled Rumors and Over. Both the singles hit the commercial success peaking the Bubbling Under Hot 100 Singles lasting for three weeks. Also, the singles received the positive response even in the international countries including Australia, Ireland, and the United Kingdom.
Specifically, Rumors peaked at six on the Bubbling Under Hot 100 Singles chart and listed at 14 in Australia and Germany. Later, the music videos also got nominated for the 2005 MTV Video Music Awards.
Then she released her second album A Little More Personal (Raw) in December 2005. The record also got hit reaching the top 20 on the Billboard 200 chart and eventually certified gold.
Successively, she released her first single Confession of a Broken Heart (Daughter of Father). It also led her to the high success in the musical industry listing as the number 57 to the chart of the Billboard Hot 100.
By late 2007, Lindsey released her third album titled Spirit in the Dark. Later in 2008, she released her first single Bossy.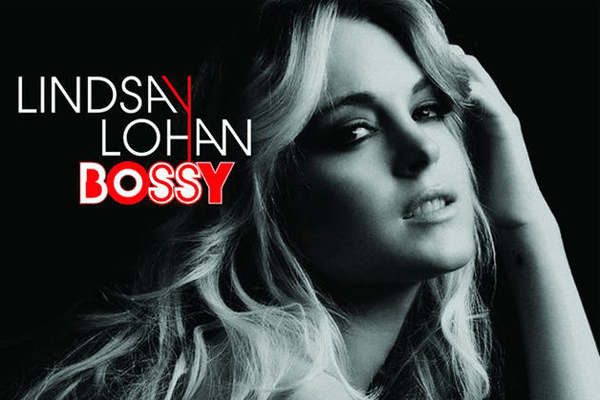 Lindsay Lohan's appearance from her third album Bossy
Image Source: iTunes
The first single Bossy numbered at one position on the US Billboard Hot Dance Club Play chart. And she has no more musical contribution since that day. But she is planning to continue her musical career soon.
As of 2016, Lindsay was dating her love Egor Tarabasov, Russian millionaire or owner of real estate agency called Home House Estates. But the couple broke up in mid-2017.
Besides, she had particular dating history with a different personality. Earlier, she was dating Aaron Carter (2000-2001) following Wilmer Valderrama (2004). Similarly, she dated Harry Morton (2006), Calum Best (2007), Riley Giles (2008), and DJ Samantha Ronson (2008-2009).
Lindsay Lohan net worth is $500,000 as of 2017.  Lindsay Lohan's movies career is the reason she is earning a huge sum of money. Due to the declination of Lindsay Lohan's movies appearance in the recent years, her net worth is low and is insufficient to manage her finance.
Nicknamed as Linds, La Lohan, LL, LiLo, Lindsay Lohan has an average height of 5 Feet 5 Inch. Her body measurement is 36-24-35. Cancer is her birth sign.
American native Lohan possesses white ethnicity. She has a charming look with grey colored eyes. She has a long red color hair.
She loves to spend time with her family.