Lizzy Caplan is an American Actress and Model making her first appearance in the industry through television series Freaks and Geeks (1999-2000). With the positive feedback from the audiences, Lizzy Caplan's Movies are reaching the height.
Lizzy Caplan is the active personality getting more extensive attention through her first role in Film Mean Girls (2004). Because of her distinct character and acting skill, she is one of the most demanded television personality. Her last appearance was in the film The Disaster Artist (2017) and television series I'm Sorry (2017).
A film titled Extinction (2018) is her upcoming project. Lizzy, active in the entertainment industry since 1999, is nominated for several awards under several categories. Caplan was the Variety's Top 10 Actors to watch in 2006.
Lizzy Caplan was named as Elizabeth Anne Caplan during her birth on June 30, 1982, in Los Angeles, California. Her father Richard Caplan is a lawyer whereas her mother Barbara (Bragman) is a political aide.
Caplan grew up in a Jewish family. She spends her childhood with her two older siblings named Benjamin (brother) and Julie (sister) in Miracle Mile district. Lizzy lost her mother when she was 13 years. Her mother died of illness.
Lizzy attended Alexander Hamilton High School and was a student at school's Academy of Music. Initially, she started playing piano, but later she turned her mood toward the drama. Then, she graduated from her high school in 2000. But, she did not join the college for pursuing her acting career.
Starting from the Piano, Lizzy slightly entered into the entertainment industry. Have a short look at the glimpse.

Faith in passion led her to start a professional career in 1999. She appeared in the television series Freaks and Geeks as Sara. Eventually, she made her several guest appearance on numerous shows including films and television series.
Lizzy started her film career through comedy film Orange Country (2002) as Party Girl. Then successively, she arose in numerous films. Lizzy Caplan's movies include Mean Girl (2004) alongside Lindsay Lohan, Love Is the Drug (2006), Crossing Over (2009), High Road (2011), Save the Date (2012), and many more.
The following year she appeared in The Interview (2014), The Night Before (2015), Now You See Me 2 (2016) and so on. Majorly, Lizzy is best known for her roles in the film Mean Girl (2004) as Janis Ian. Also, she is best for her roles in  Bachelorette (2012) as Gena and Hot Tub Time Machine (2010), April Drennan.
Caplan made her 1st appearance on NBC's teen comedy-drama TV Series Freaks and Geeks in 4 episodes. Following, she appeared in Undeclared (2001), Smallville (2001-03) Tru Calling (2005), Family Guy (2006).
Likewise, she appeared in  Tru Calling (2005), Family Guy (2006), Childrens Hospital (2010-11). Currently, she appeared in Masters of Sex (2013-16), The Simpsons (2017), and so on.
Among the several television series, people highly admired her in Master of Sex earning over $100,000 each episode. Besides, she is famous for her roles Amy in True Blood (2008). Also, she is famous as Casey Klein in Party Down (2009-10) and Kat Warbler in The Class (2006-07).
Is Lizzy Caplan married?
Lizzy Caplan married Tom Riley, an English Actor, and producer, in September 2017 in Italy. The couple had met in January 2015 while filming in London. Then, they also made red carpet debut as a couple at the Prague Opera Ball in February 2016.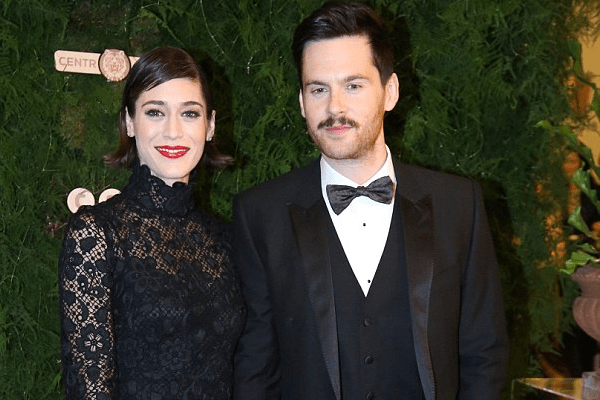 Lizzy Caplan's with her husband Tom Riley
Image Source: Daily Mail
Well, Lizzy Caplan was not single before. Instead, she had dating history with Matthew Perry from 2006 to 2012. While Lizzy was working on the sitcom The Class, he was filming Studio 60. Both of them were working on the same lot, so the couple got chance to meet each other.
Caplan is a godmother to Birdie Leigh Silverstein, daughter of an actress Busy Philipp's.
Lizzy Caplan Net worth is expected to be $75 million as a combined earning according to Mediamass. Lizzy Caplan Net worth is serving her to spend a blissful life and lavish lifestyle. If she continues in the industry with the same fascination, undoubtedly, Lizzy Caplan net worth will increase higher soon.
A magnetic personality Lizzy Caplan has nicknames like Lizzy and Liz.  American native Caplan's birth sign is Cancer. She has an average height of 5 Feet 4 Inch with the body weight 117 lbs.
Caplan belongs to Judaism religion and possesses white ethnicity. Her body measurement 34-23-35. Caplan has beautiful green colored eyes with a fair glowing skin. Her hair is dark brown.
Lizzy Caplan's movies are the biggest hit of the times. You may visit Lizzy Caplan's movies even on YouTube. She is also active on the social sites like Instagram, Twitter, Facebook.