Joell Ortiz, also known as the Yaowa, is an American former rapper and member of the now-disbanded hip hop group Slaughterhouse. He was born as Joell Christopher Ortiz on July 6, 1980, in Brooklyn, New York to his mother Michele Ortiz.
The rapper Joell spent his childhood in East Williamsburg.  Joell Ortiz's parents are of Puerto Rican descent. Joell Ortiz's net worth is estimated at $3 million. Starting in 1998, his music career spans over 20 years. Joell Ortiz reportedly began his singing career by signing a deal with Dr Dre's record label, Aftermath Entertainment.
Net Worth and Earnings
As stated before, Joell Ortiz's net worth is estimated at $3 million. Joell credits much of his wealth to his career as a vocalist for the hip hop group Slaughterhouse and for his other stage performances.
In 2011, the hip hop group signed with Eminem's record label, Shady Entertainment. At Slaughterhouse, Joell Ortiz's partners were the former Pump It Up rapper Joe Budden, along with Kxng Crooked or Crooked I and Royce da 5'9″.
Through his record label, Joell receives a salary of around $180K per year. Instagram posts by Joell reveal he owns expensive gold watches. In a recent post, he is seen flaunting an 18k gold skeleton watch.
Music Career
Joell Ortiz started his singing career as an 18-year-old. He was initially signed to the record label Aftermath. Aftermath's CEO is none other than gangsta rapper Dr Dre. Immediately after releasing his first song, Joell took the American rapping scene by storm with his singing talent. He became much talked about and senior rappers started taking notice.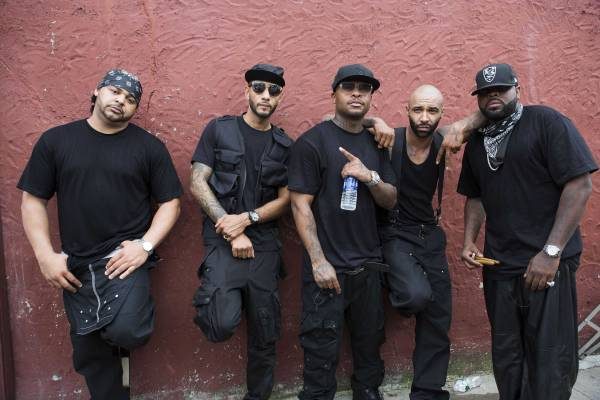 Joell Ortiz alongside his crew members including Swizz Beatz, Royce Da 5'9″, Joe Budden & Crooked I. Image Source: Pinterest.
However, Aftermath dropped Ortiz after a controversial feud with record producer Jimmy Lovine, who reportedly wanted to get rid of Ortiz. After his breakup with Aftermath, Ortiz dropped a number of hit singles such as House Slippers and Free Agent.
Shortly after parting ways with Aftermath, Joell began a series of deal signings with other record labels. He signed with Michael Koch's Koch Records in 2007, for which he released the hit album The Brick Bodega Chronicles. The album features performances by fellow rappers Showbiz, Street Radio, and The Alchemist.
Joell reportedly signed to E1 Entertainment in 2008. His contract, however, did not last as he left the label in 2010. Beginning in 2011, Joell Ortiz is now signed to Eminem's Shady Entertainment. Joell also has collaborated with Apollo Brown, a renowned record producer.

Joell Ortiz's popularity is due to his early collaborations with rockstar industry musicians in the hip hop scene. His music and business collaborations include Eminem, Dr Dre, Akon, Ghostface Killah, Big Dave, etc.
Family, Mother, Wife
When it comes to his family, Joell Ortiz has not revealed much. However, posts on his social media suggest that he lives with his mother Michele Ortiz and a has got a beautiful sister. Joell Ortiz also has a wife, so it is obvious that he is married. Joell Ortiz's wife pictures are scattered all over his Instagram. He loves both his mother and wife a lot, and Joell often takes them out. Once he took the beautiful ladies to the Mary Poppin's movie screening where they met Lin-Manuel Miranda.
View this post on Instagram
The talented rapper Joell also owns a dog named Verse, which he brought along from a trip to Puerto Rico. Joell is active on Twitter and Instagram. Joel Ortiz is famous for his kind heart, which is reflected in his tweets and inspirational posts on Instagram.
Follow SuperbHub for Celebrity Biography, News and Entertainment.