Former Secretary of the United States Hillary Clinton will speak in the Class Day ceremony of Yale University on 20th May 2018.
As per record, Hillary Clinton was graduated from Yale Law school in 1973. Co-chairs of Yale University twitted Hillary Clinton as the Day Class speaker for the ceremony 2018.
Class Day is the ceremony of Yale University where the prize is distributed to the academic, artistic, and athletic prizes and the celebration of undergraduates. Academic gowns and the choices of headgear are worn by seniors in the event. The event will be held on Old Campus on Saturday and it is scheduled for two hours from 2:00 pm to 4:00 pm.
Co-chair Hochman told the student Newspaper that Hillary spoke at her Wellesley graduation in 1969, the challenge is to practice politics to make impossible possible.
Hillary Clinton after losing Presidential election
Clinton was the nominee for 2016 election but lost to President Trump. The words spoken by her in 1969 seems to be unfulfilled yet as she lost the election of the presidency in 2016.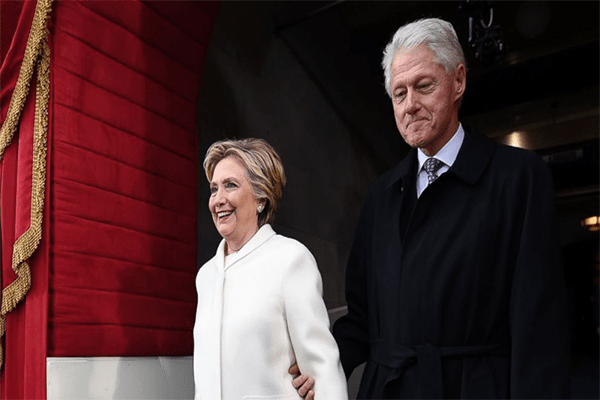 Hillary Clinton with former president Bill Clinton attending Trump inauguration
Image source: ABC News
After losing the election Hillary returned back to politics after six months. Hillary is launching multiple campaigns these days.
She launched campaign named What Happened focusing on the political issues. Hillary twitted her campaign named Onwards Together was launched to encourage the people to run the office.
In anti-Trump protest, Hillary said she still believes the female is the future despite all challenges we have met according to The Week.
She might take part in the upcoming election and may win, the future is uncertain. Many Celebrities are also guessed to participate in upcoming 2020 election. Kanya West and Oprah Winfrey are also believed to participate in the upcoming election.