Ted Vernon and his wife Robin Vernon are best known for their TV show South Beach Classics. The power couple has seen successful years in their car dealership business over the years. There have been through difficulties, but have always stayed together.
Robin Vernon is known for appearing in Bikini Swamp Girl Massacre in 2014 and Hell Glades in 2013. Her brief Hollywood career has given her much fame.
The couple has been successfully running their business till date. Their business venture, 'South Beach Classics' helps to buy, sell, and trade and exchange some of a unique classic automobile. The couple deal with the cars at Ted Vernon Specialty Automobiles.
An extract of Ted and Robin together in show:

Robin Vernon has successfully helped her husband throughout the years. Her devotion to their business has helped it to grow and foster over the years.
Robin met her husband Ted on a blind date. As in many movies, the couple went on to fall in love. Ted began working as an excellent cars salesman by bringing classic models back to the market. The support of Robin Vernon has been very helpful.
Robin and Ted have employed their electric crew and deployed techniques like e-commerce. Their clientele used to comprise only of the locals at the beginning but it gradually expanded to athletes and superstars. Robin and Ted's business South Beach Classics also turned into a discovery channel show.
Due to her lean and white figure, many have made assumptions that Robin Vernon has had more than one plastic surgery. She has not addressed the rumor about plastic surgery. Robin has been seen with her husband on their show, South Beach Classics since it first aired in 2011.
In February 2017, the official facebook page of South Beach Classic shared that Robin Vernon won't be seen on the show. The new season has already aired five episodes of SBC. However, Robin has not been seen in it.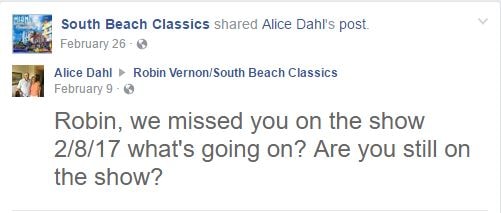 Ted and Robin have been earning a huge income from their successful business. Recently there had been some difficulties when their company was set on fire in 3 places by an unidentified suspect.
Robin had revealed that their company had surveillance cameras but the suspect was not identified. Many cars along with Ted's own Rolls
The season of South Beach Classic has concluded on 1st March 2017. Now, in the month of April after two months, we can still see that the fans are missing Robin Vernon and want her to come up with her own show.