The 2017 Golden Globes Award ceremony gave a new light to the African-American community when Tracee Ellis Ross became one of the first African-American women to win the award! Now, according to many sources, the hilarious and witty Tracee Ellis Ross is putting her Golden Globe Award to correct use. Let's find out what she is doing with it!
Tracee Ellis Ross won the Golden Globe award for Best Comedy Actress this year! Tracee does not want her first ever prestigious Golden Globe Award to collect dust on the dusty shelves, thus she has been efficiently using her trophy. Tracee is seen hilariously putting it to daily use. She most recently launched MORTIN's #WomanInProgress campaign.
Thus in an interview with People.com, the phenomenal actress stated that the Trophy was really very functional. Wonder how?  Well, Tracee revealed that she has been pounding chicken with the Trophy to make it tender!
Furthermore, she jokingly added that it is also 'a wonderful paperweight'. She kept on stating its uses. Some of the functions of the new attained Trophy that Tracee revealed were its use as a book holder. We wonder how!
However, the actress seems to be too happy for her triumphant career and the award that she has been honored with. Tracee Ellis Ross gave a passionate and emotional speech in the Golden Globes 2017 stage when she won the trophy.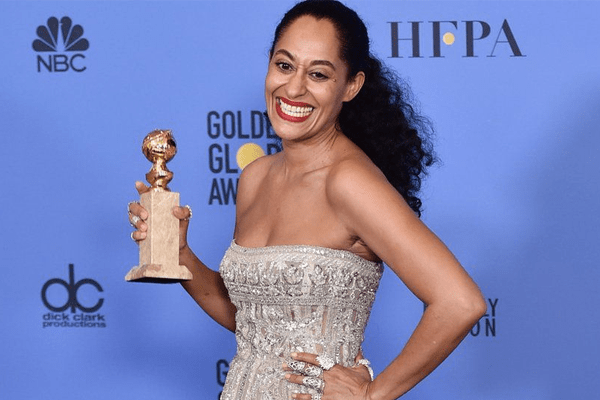 Tracee also revealed that she used to take the trophy everywhere for about a month or so but her on-screen son; the adorable Miles Brown had not seen it. She added that while she was about to get it from the dressing room, Miles offered to volunteer. Tracee has such an attachment with the trophy and took the offer but quickly warned Miles not to drop it! Typical of Tracee Ross!
However, Miles took a whole lot of time bringing the award from the dressing room to the stage because he was on with photo-shoots with the prestigious trophy in his hands! Who wouldn't do that! We saw a picture of the three, Miles, Tracee, and the Golden Globe Award in Miles Brown's Instagram account with the caption, 'She Let me Hold it!'
We are extremely happy for Tracee for breaking the history and becoming the first African-American actress to win this award in this category. We hope more actors break the norm