Teen Mom star Farrah Abraham is dating a new man in her life. Stuntman Aden Stay is the lucky guy to be mingling with the hottie.
The duo was spotted in LA on February 28, 2018. They had gone out for a romantic lunch and were wrapped in each other arms. Farrah was looking very happy with Aden Stay, she was wearing a green see-through top and black leather pant.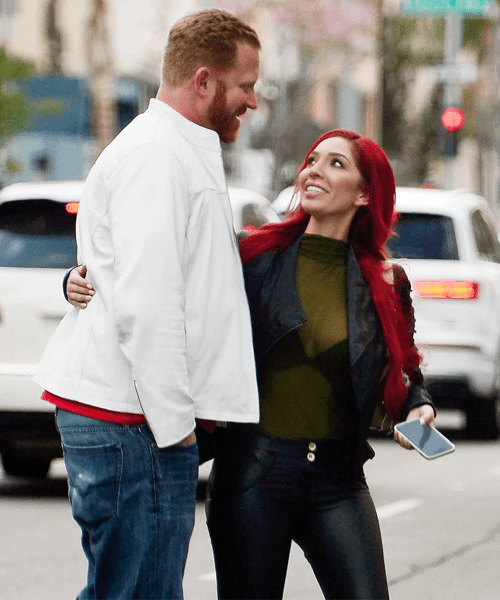 Caption: Aden Stay with Farrah Abraham in LA, California.
Image Source: US Weekly
In an exclusive interview with US weekly, Farrah said that Adam was an amazing person. She expressed that she was blessed and felt as a lucky person. The reality star also revealed that she loved the part of Adam being a Hawaiian, amazing father and business entrepreneur.
Born on May 31, 1991, Farrah is a mom to daughter Sophia(born 2009), father of the child was Farrah's ex-boyfriend Derek Underwood had died in a tragic car collision two months prior of Sophia's birth. Farrah had dated Simon Saran for more than two years and split in April 2017.
Farrah Abraham's new boyfriend
Aden Stay is a stunt double, and business owner who has worked on Jurassic World: Fallen Kingdom, Guardians of the Galaxy Vol.2, Pitch Perfect, Logan, Welcome to the Jungle and TV series MacGyver.
He has multiple businesses outside Hollywood and owns a construction company.In 2017 Aden dated actress Rebel Wilson for several months. Stay is a father to two daughters from a previous relationship.
In a recent Interview with TMZ on February 23, 2018, Farrah made a jaw-dropping statement that she and her nine-year-old daughter have naked pictures of each other on their phones.
Her friends were visibly uncomfortable in the video and many fans shocked. Farrah made the bold statement while she was questioned on her leaked sex tape and left many people amused.
#TeenMom fans freak out after Farrah Abraham admits she & her nine year old daughter have "naked pictures of each other" on their phones. https://t.co/RnRNQPp0kW pic.twitter.com/sVCmKW4OsO
Critics were lined up in the comment section to speak on this topic. This can be a serious issue for Farrah and a question on her parenthood.
Source: E Online, Daily Mail 
Stay with SuperbHub for Entertainment and Celebrity news.