Diana Ross with her family in AMA's 2017 after achieving the lifetime Award
Diana Ross, an American music legend is included in the one of the world's best–selling girls group.She was also awarded with the Presidential Medal of Freedom by President Obama in the last year.
This year on Sunday's American Music Awards event at Microsoft Theater, downtown LA, Diana Ross was honored with the title 'American Musical Award 2017' for her lifetime achievement.
The former singer has made lots of fans in her five decades of musical career. The singer was heartily pleased and happy to see her fans during the award ceremony.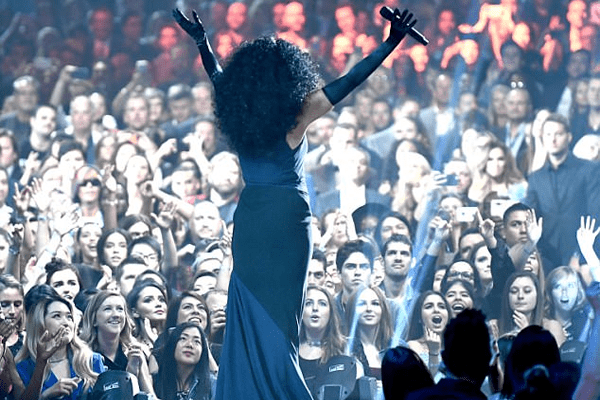 This is the real fandom! Diana Ross addressing her fans
To make it more special, multi-talented singer Taylor Swift had a beautiful surprise for the legendary Diana Ross.
Though unable to attend the ceremony, 'Look what you made me do' singer, Taylor Swift gave a video tribute to Diana Ross.
Taylor Swift gave a video tribute to music legend Diana Ross
The singer's voice could be heard in the video saying, "Hello Diana, it's me Taylor. I want to say congratulations to you for being awarded  with the title 'American Musical Award' of the year 2017″
"You became your  life- long  achievement. Once again, Congratulation beautiful lady. You are the most deserving person for this award. You are the person to whom I am close. Thank you so much for  your inspiration and commitment.  You are so much dedicated on the musical industry . Congratulation Diana! Wishing your great days ahead."
She also said that Diana is elegant, fierce, strong, and brave, and she have paved the way for everyone who does what they do now. Including herself(Taylor).
Wow! It became a huge surprise and a wonderful congratulation to Diana Ross.
One should really listen to Diana Ross's energetic song 'Ain't No Mountain High Enough'. Her powerful words in the song used to touch the millions of hearts. And it still does!
She has committed her life in the musical industry by singing lots of songs. Some of her songs are 'Remember me', 'Surrender', 'I'm still waiting', 'Touch me in the Morning', 'All of my life', 'Love hangover', 'Upside Down', 'Why Do Fools Fall in Love', 'It's My Turn', 'When You Tell Me That You Love Me', 'Missing You' etc. and so on.
It was really a great moment to welcome the 73 years old super star lady in the award ceremony stage on Sunday night. She was invited in the program as the lady of the hour.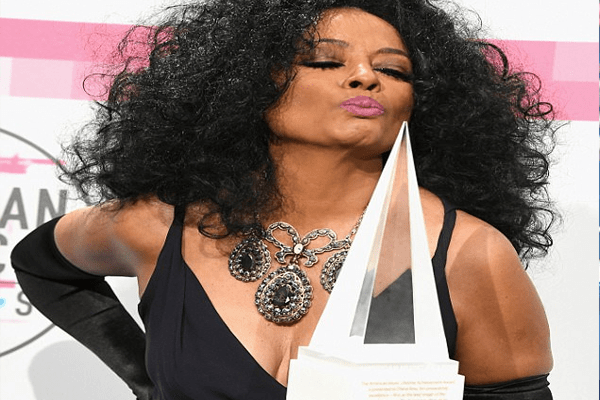 Diana Ross  posing with her award
The chart topping veteran Diana Ross glowed the stage as she stood up with black and blue cocktail dress. She wore elbow length gloves and very elegant tulle pink shawl. The chunky statement necklace and her curly black hair didn't gave a single hint that she is in her seventies.
For more updates on award ceremony, stay with us.