The father or the inventor of Rock n' Roll music, Chuck Berry was reported dead on 18th March 2017. Chuck Berry, known best for his hits like Roll Over Beethoven, Maybellene, Rock and Roll Music had managed to create a different era in the field of music.
The world knew the passing of Chuck Berry through the Facebook page of Johnny B. Goode", "Roll Over Beethoven," "Maybellene," "Rock and Roll Music" which confirmed the details. As per the response to a medical emergency on Bucker Road on Saturday 18th, March 2017, the St. Charles County police reported about his passing. Berry was said to be lying unconscious in his bed and was pronounced dead at 1:26 p.m.
Showers of condolences were swarmed in Twitter. Celebrities from Alice Cooper to one of Berry's closest friend, Keith Richards showed their condolence.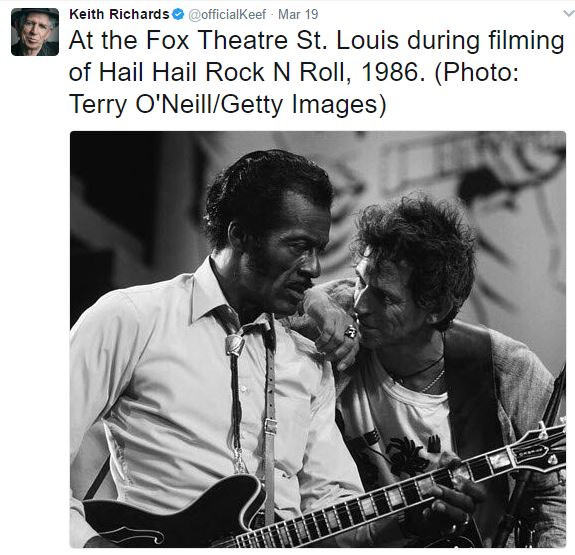 Founder of the rolling stone, Mick Jagger also posted a heartfelt condolence of Berry's passing along with an old picture of the very young Mick and Chuck. As per the words of Mick Jagger, Berry's
"lyrics shone above others & threw a strange light on the American dream."
From his dreamy guitar solos to his showmanship and his amazing lyrics, Chuck is indeed one of the pioneers of rock and roll. Beery got into the minds of his teenager's listeners through his American dream lyrics. Having appeared in more than a dozen movies of his singing career including, Hail! Hail! Rock 'n' Roll, Go, Johnny, Go!, and more, the singer, songwriter and guitarist can also be said to have had a successful career overall.
Berry's enchanted lyrics and amazing music led three of his songs, Johnny B. Goode, Maybellene, and Rock and Roll Music, to be included in the Rock and Roll Hall of Fame's 500 Songs That Shaped Rock and Roll.  Chuck Berry stands out to be one of the first musicians to be inducted into the Rock and Roll Hall of Fame.
The iconic man, Chuck Berry was married to his wife, Themetta 'Toddy' Suggs and had three children Ingrid Berry, Charles Berry Jr, Melody Exes Berry Eskridge and Aloha Berry together. He had an exceptional professional career as well as a lovely personal life.
The passing of the legendary Chuck Berry has been saddening. Chuck will remain in the depths of our hearts and his music will be our solace! Chuck Berry will be largely missed by all his fans around the world.
#American songwriter & guitarist  #Singer  #Chuck Berry Biography