"Blurred Lines" singer Robin Thicke is a dad again, girlfriend April Love Geary gave birth to the couples first child and his second.
Baby Mia Love Thicke was born on February 22, 2018. Robin Thicke had announced the birth of his daughter in an Instagram video. Robin cradles his newborn daughter in the video and his caption reads thank you God and April.
The couple had revealed the baby's name at the baby shower on January 20, 2018, in Malibu, California.
Model April Love had posted on her Instagram a photo of a giant floral displaying the name MIA. Her caption reads, "Today was absolutely perfect", Thicke kissing the mother of his baby.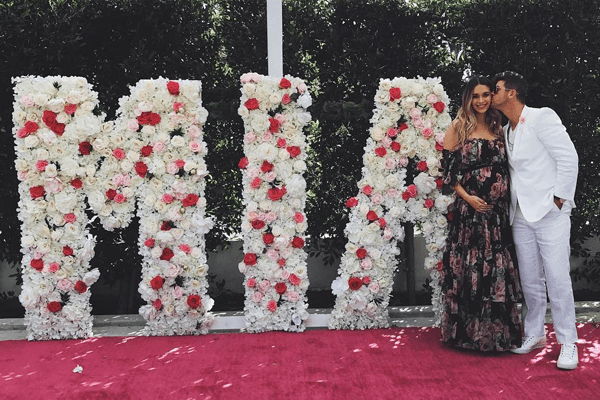 Image Source: April Love's Instagram 
Robin Thicke and April started dating soon after his divorce with then-wife, Paula Patton. Thicke shares a 7-year-old son Julian Fuego Thicke with  Paula who filed for divorce in October 2014.
Paula Patton and Thicke were High School lovebirds married for eight years and parted ways in February 2014. The couples split is known to arise after Thicke's controversial performance in 2013 VMA where he was pictured grabbing another woman's bare butt posing for a photo.
Thicke tried every possible way to apologize and win Paula back, from dedicating a song and crying on stage saying "I miss you and I'm sorry".
Thicke released an album Paula in her honor but she wouldn't turn back then the singer started dating April Love.
April Love was excited to share the news of her pregnancy via Instagram on August 18, 2017.
Stay with SuperbHub for more Celebrity news and Entertainment.