Photo Source: longroom.com
upermodel Miranda Kerr has found the love of her life and it is non-other than Snapchat's CEO Evan Spiegel! Miranda Kerr and Evan Spiegel are officially man and wife. The power couple tied the knot this Sunday, May 28 in their Brentwood, California home with only a selected group of A-listers. Let us find out more about this elite wedding!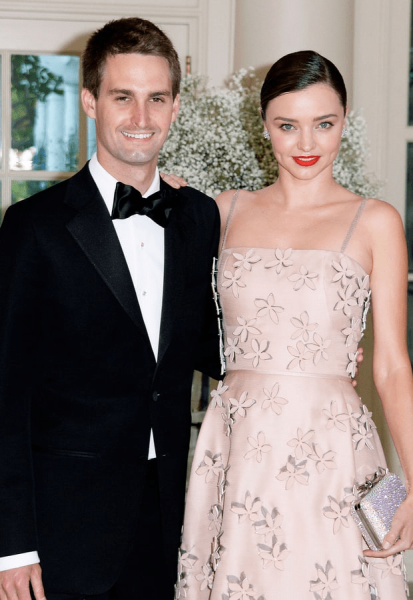 The glitz and glamor industry's superstar, Miranda Kerr, and the technology elite Evan Spiegel shared their vows on 28th May in their Brentwood, California home amidst 50 of their family and friends. The event was known to be classy and intimate.
A close source shared to E!News that the wedding was "intimate" and the bride opted for a more "natural princess" look. The source also shared that the event was very emotional. The wedding brought tears to the eyes of the bride and the groom.
The wedding started at 4 p.m. with guests sipping cocktails in an open-air tent while a pianist played When You Wish Upon a Star in the background. The vows had been shared I 20 minutes and were said to be "beautiful". As said by a wedding goer, the wedding was "done elegantly" with farmhouse tables, light pink garden roses, and white benches and chairs.
Miranda Kerr was previously married to Orlando Bloom but the relationship ended devastatingly and in a publicized way. Miranda and Orlando have a son together named Flynn. However, this time Miranda Kerr has chosen a different approach and has found the love of her life.
Miranda Kerr and Evan Spiegel officially got into a relationship back in July 2015 when they were seen in the public holding hands. This love later brewed into something strong and sweet with the couple getting engaged.
Of Spiegel, Kerr had shared that he "acts like he's 50" even though he is 25 and is not partying but instead "goes to work in Venice"! She shared that the couple had a very low-key life where the couple stays at home, "have dinner, goes to bed early". After her relationship with Orlando Bloom, maybe this is exactly the kind of relationship that Miranda Kerr really wanted!
Miranda shared that his son Flynn asks if he will "have a brother or sister one day?", so Kerr might be planning on having kids anytime soon!