Ameican rapper Tekashi 6ix9ine was kidnapped and robbed on Sunday by 2 masked gunmen, leaving him injured in the process. Rapper Tekashi whose real name is Daniel Hernandez told the cops that the attack happened around 4:30 am in the morning as he was on his way home from the studio as he was recording a music video.
According to Tekashi, who is also known as Tekashi69, was kidnapped by the gunmen near Bedford and Atlanta avenues. The gunmen hit his Chevy Tahoe with their dark sedan. They got out of the car and seized Tekashi's driver's phone and hit the artist, allegedly pistol-whipping him and forcefully abducting and taking him to their car.
Then the kidnappers took Tekashi to the mother of his child in Bedford-Stuyvesant and forced him to call someone from the house and took away cash and jewelry from the house. The kidnappers took around $750k in jewelry as well as $15-20K cash.
The "Oof" rapper was finally able to escape from his kidnappers, who according to the rapper didn't in the fear of getting recognized. He asked a stranger for help and called the cops at around 5 in the morning and later checked himself to the hospital.
TMZ posted a picture of the rapper from the hospital where we can see that he is badly injured, with bruises all over his face.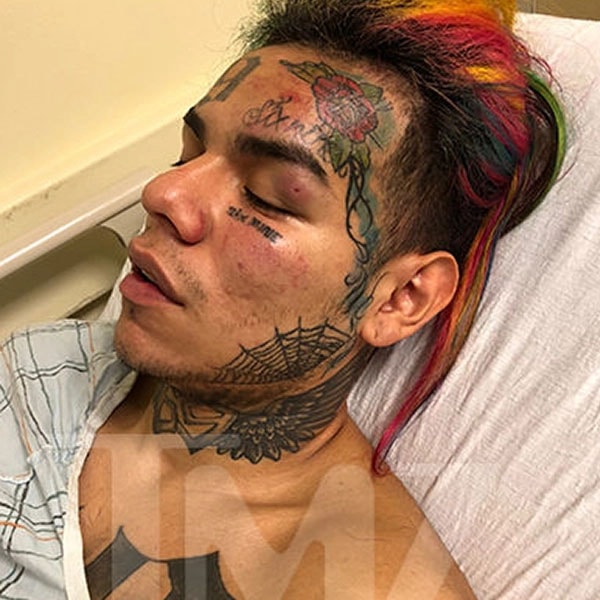 Tekashi69 at the hospital after getting kidnapped and robbed in Brooklyn.
Image Source: TMZ
After the incident, Tekashi took to Instagram and said he felt he was going to die and how happy he was to be alive, along with a picture of rapper XXXTentacion, who was recently murdered.
Tekashi's baby mama Sara was said to be terrified after the kidnapping and robbery and feared for the life of Tekashi, as he is feuding with so many rappers.
While many people are sympathetic towards the rapper, some called this a publicity stunt. They think the rapper faked his kidnapping to promote his new song "FeFe" with Nicki Minaj, which dropped yesterday as well.

The rapper gave different details to friends and the police, as he didn't tell the cops that he was pistol-whipped like he did to his friends, which he could mean he is lying about the kidnapping.
Whatever the case may be, this is not the first time Tekashi has found himself in trouble. He was arrested on July 11 at the JFK Airport for choking out a fan. Tekashi 6ix9ine was also charged in May for assaulting an NYPD officer and also allegedly tried to murder Chief Keef.
For more News, Biography, and Entertainment visit SuperbHub.