Vape pens are really popular today and these products are becoming the new target for thieves. Just recently, the Mount Juliet police department was looking for a robber who stole $1,000 worth of vape pens from a gas station. The incident happened Saturday morning 18th August at around 3:00 in the morning.
The suspect forcibly entered the store and took several vape pens and pods. According to the police, the suspect was a man, white, very thin, and standing about 6-feet tall. He was wearing a red bandana to cover his face and a black hat, fleeing toward the Devonshire Drive.
Impacts of Rising Burglary Cases to the Vaping Industry
In Oklahoma City, thieves targeted three vape shops in less than five days. Everything was caught on CCTV camera and thousands of dollars' worth of merchandise and cash were stolen. The thief smashed the window with an object he picks up and threw at the shop's window. Vape kits were stolen with a price range of $75 to $100, including mod, tank, and almost all types of vape products. According to the owner, there's a huge market for used vapes online, and this is the possible reason why thieves and robbers target vaping devices.
On the other hand, the police in Wichita, Kansas noticed an increase in burglary cases involving vape shops. Just this year, there are 17 break-ins recorded, crippling the vape owners financially. According to one of the vape shop owners, these businesses are mostly family-run, so they are small-scale and burglary can really make entrepreneurs suffer. Burglars usually break the glass and kick down cabinets, stealing almost everything they can out of the shop.
Apart from the amount of merchandise stolen, vape shop owners also endure the cost to repair the damages. It results to loss of revenue amounting to thousands of dollars, taking months for them to recover their losses. One vaper also shared his experience about placing a $400 mod just on top of a shelf, checked his phone for only a few seconds and the mod was gone. Theft happens not only in vape stores. Vape theft cases also happen in restaurants, malls, coffee shops, and almost everywhere. In fact, vape device snatching is also rampant, and many victims are not able to recover them anymore.
Why Vape Products are Becoming Targets of Thieves and Robbers
Thefts don't only happen in the United States; different countries also have similar vape theft incidents. In different e-cigarette forums and community sites, there are many reports of stolen vape products worldwide. That is why vapers are advised to be aware and vigilant of their surroundings at all times. Vapes are the increasingly becoming the latest target of burglar attacks. Because of the growing demand for vapes, thieves make big money out of vape merchandise.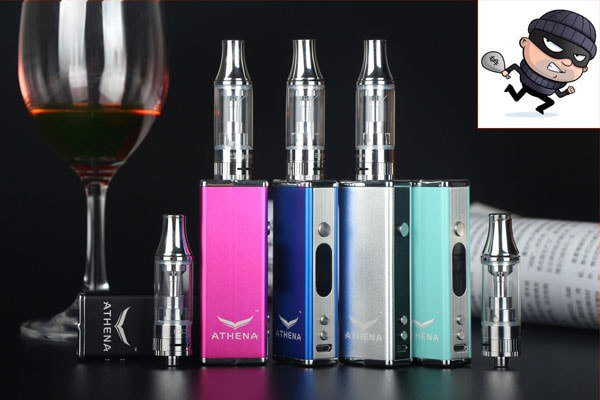 Robbers and Thieves are targeting vapes as they are easy to sell online. Image Source: ecig box mode
Online marketplaces welcome private and business sellers. These sites are taken advantage by scrupulous sellers. The demand for vapes is positive for burglars because they can sell stolen products online. It is so easy for them to create a listing, put a price, and get money from the stolen items. Criminals are becoming more aggressive, posing danger to the vape shop owners and the vaping industry as a whole.
Suggestions and Recommendations to Prevent Burglary Attacks
Business owners are advised to set up not only CCTV cameras but more sophisticated security measures. It is also a good idea hiring security personnel to ensure 24-hour surveillance and protection. If possible, keep expensive vaping devices on more secured areas with state-of-the-art locks, making it difficult for burglars to find.
There are available safe for commercial purposes, specially designed to resist burglary attacks. Investing in these types of security measures will help reduce the risks of being victimized by thieves. On the other hand, users or vapers who have expensive vaporizers, vape pens, and mods are encouraged to be vigilant when vaping outdoors. If possible, using cheap mods in public could be a good idea to prevent being a target of thieves. It is best to leave expensive vaping devices at home or for special occasions outside the house.
Furthermore, there should be a good coordination and collaboration between vape store owners and the authorities to reduce or even eliminate these incidents. Proper planning and development of practical laws and penalties should be imposed. There should be an aggressive reinforcement among the police and concerned government agencies, most especially when it comes to regulating the sale of second-hand and private sales online.
While there's a lot of aspects to talk about concerning this, starting the initiatives should be pursued once and for all. Apart from actionable steps on the part of the government and vape shop owners, general consumers should also be responsible and sensitive. Only purchase from authorized dealers and retailers to avoid dealing with scrupulous sellers who might be the people behind the increasing incidents of burglary attacks.
Important Consumer Warning Revealed
Consumers are warned about dealing with private sellers online. While there are many trusted and reliable private vape sellers, there are also many scrupulous sellers who sell stolen vaping products online. It is important to check the details about the private seller you are trying to deal with by checking customer reviews, tenure, seller ratings, and relevant comments. Ask questions whenever possible to source out the origin of the vaping device. Ask for a proof of purchase and other pertinent documents to ensure you are only buying legitimately-acquired vape items.
Conclusion
Every vaper and vape owner should be concerned about the increasing number of vape burglar attacks. Furthermore, the police authorities and the government have to intervene and think of effective solutions to help reduce theft incidents and to monitor online sales of vaporizers, e-cigarettes, vape pens, e-liquids, and other vape products.
Vaping is a major industry, contributing greatly to the economy while helping smokers quit smoking and cannabis medical users find an effective treatment for the signs and symptoms of different medical conditions.
For More News and Entertainment: SuperbHub.