Photo Source: huffingtonpost.com
Heidi Montag is expecting a baby soon this October. On 9th June, Friday Montag shared the first 3D sonogram of her baby-to-be. Heidi captioned it "My Angel". Montag and Spencer Pratt are super excited to have their first baby after 8 years of marriage. Let us get into the details!
Heidi Montag took to snap chat to share the first 3D sonogram of her baby-to-be on 9th June. She captioned the picture, "My Angel"!
The MTV superstars, Spencer Pratt and Heidi Montag got pregnant with a child which was revealed exclusively by US Weekly in April. Only recently, in an interview with E1 News, Montag had shared that she was five and a half months pregnant.
Heidi also shared that the pregnancy was not unplanned but was "years in the making". Spencer had shared in an interview that Heidi Montag had wanted to have a child ever since she first met him. In the interview with E! News, Heidi shared that she had really wanted the child to be "a boy"!
Montag also shared with US Weekly that she ran into the room where Spencer was and said that "It's the doctor's office!" nd that the doctor said, "It's a boy"! Montag who had wanted a son was more than happy to hear this news and shared that she started screaming.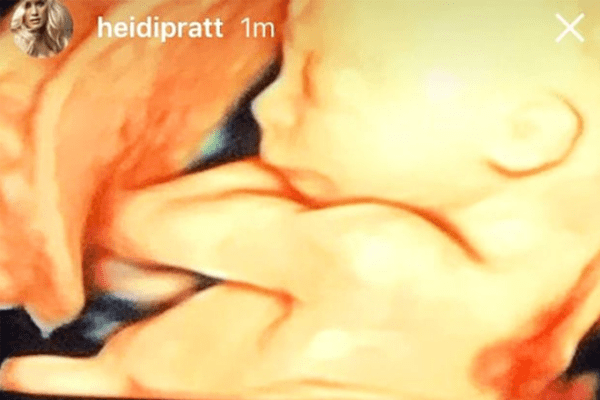 Montag shared that Spencer who had also wanted a boy later said that he is not concerned if it is a boy or a girl but that he wanted to make sure "it's healthy"! Although Montag had been really rooting for a boy and she got what she wanted but Montag revealed that she also wants a daughter.
Montag shared that she hoped t have "a little girl one day" but she wished for her first child to be a son. Montag who loves kid shared that she hopes to god that the couple does not just have one but if they unfortunately do, Montag wants it to be a son.
The reason for her wanting a son is because a son would be "a more natural bond for Spencer" who is very close to his own father.
Heidi Montag and Spencer Pratt got married back in April 2009. They have been documenting their relationship in the hit MTV show, The Hills, so all their viewers have seen them grow and are very happy to see that the couple is having a child.