It hasn't been long since Miley has turned her entire party-girl and marijuana smoking personality upside down. While many like the sweet girl Miley personality others prefer her as the twerk queen. Miley Cyrus has now been giving us a quick hint of her Hannah Montana days through her recent music. Miley Cyrus's tribute to the victims of Las Vegas shows her in a different light; one that we saw in the early days.
Miley Cyrus seems to have long forgotten the days of twerking and wagging her tongue around. We saw her say goodbye to the sweet girl Hannah Montana personality since the dawn of 2013 MTV Video Music Awards. She gave numerous hits and was sure to grab the attention of her wild fans. She gave her fans a shock when she claimed that her Montana personality had been "murdered" and that it was the birth of a wilder and carefree Miley.
But things have slowly turned upside down as Cyrus grew her hair long and began her latest album Younger Now. We see Miley as a grown and evolved lady who knows best to let things fall into the softer side.
Miley Cyrus's tribute to the victims of Las Vegas on the Tonight Show with Jimmy Fallon was very emotional and empowering. The Monday night's episode revolved around the mass shooting in Las Vegas. She sang her old hit song The Climb. Of the performance, she wrote on Instagram that the "words mean more now" to her than ever.
Miley Cyrus's tribute to the victims of Las Vegas Shooting has not just been emotional but has shown that Miley is traveling back to her roots. She is recalling the days of Hannah Montana and has evolved from twerking to being concerned about social issues.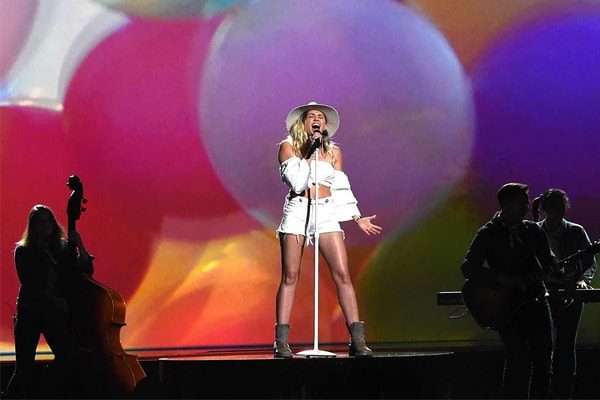 Also more recently, Miley met with her best friend Lesley Patterson. Miley took to Instagram to share how happy she was that her best friend since she was "a little BB" had made it to her Younger Now release party. Miley Cyrus also sang one of her hits Party in the USA at the iHeartRadio Festival thus proving that she is reminiscing her old days as Hannah Montana.
In an interview with the TV program Lorraine, Miley shared that she had "proved" what she wanted to that her "charity Happy Hippie" had given her the "respect as an artist".