Maxo Kream's brother, Money Madu, is declared dead after gunshot in his Woodland Hills apartment this Monday. According to KTLA5, the officers answered to a shooting call inside an apartment at 4:30 am on Monday.
Unfortunately, when police arrived, a young man in his late 20s was lying dead on the floor with a gunshot injury.
A witness present at the apartment said that the victim, aka Money Madu, went outside before returning with an agonized voice, "I was shot." Then one of Madu's roommates called 911.
Maxo Kream's brother was not identified at the moment but was declared dead on arrival. Kream was quick to share his part of the disappointment and grief of his brother's death through Instagram.
Kream writes, "No words or caption can explain what I'm going thru … I never expected this or ever lost somebody this close to me."
View this post on Instagram
Maxo further continues, "Their love leaves an indelible imprint in our memories. You don't get over it. You just get through it. You don't get by it, because you can't get around it. It doesn't 'get better'; it just gets different. We must embrace our pain and burn it as fuel for our journey. Long Live."
Stars like Joey Fatts also shared his condolences and strength to his fellow rapper, Maxo Kream for the murder of his brother, Madu through his Instagram story.
According to Madu's' posts on Instagram, it is evident that the rapper had just welcomed his daughter.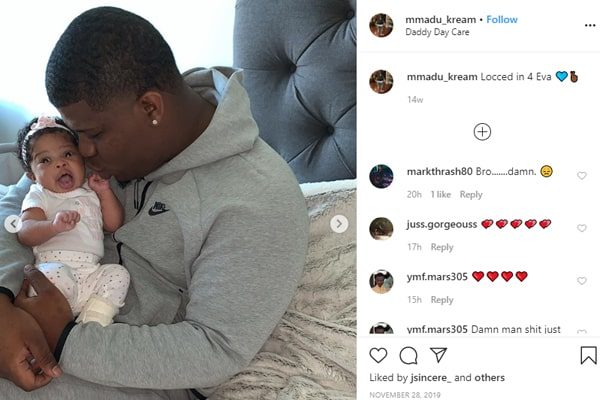 Maxo Kream's brother had recently welcomed his baby and was preparing to become a family man. Image Source: Money Madu's Instagram.
Police have no information about the possible culprit but are looking for surveillance videos and shreds of evidence. Furthermore, no motives have been determined, and there are no words of arrest yet.
It's heartbreaking for the Maxo Kream's family and himself to accept the death as the brothers were always supportive of one another. Furthermore, Maxo Kream, who made his name in the industry, sought high for his brother as well.
Moreover, Maxo and Madu shared a great bond of brotherhood. If you are a fan of Maxo, one would possibly make out that he has been the source of his success. Let's hope the deceased soul will rest in peace.
Don't Miss To Follow SuperbHub For More Updates On Celebrity News, Biography, Entertainment, And Article.