Steven Gerrard has been very lucky with his relationship with wife Alex. The couple has not only have an exciting and peaceful love life but as a proof also have four children. Steven Gerrard recently shared snaps of his fourth child on an adorable Instagram post. Let us find out more about Gerrard's newborn son!
The lucky Liverpool legend, Steven Gerrard and his lovely wife, Alex recently announced the birth of their fourth baby, a son that they named Lio. Lio was born last week and the mother is doing well. They also revealed that they named their first son after FC Barcelona striker Lionel Messi.  Gerrard took it to Instagram to share his happiness along with his fans and followers.
In the adorable Instagram post, 36-year-old, Steven Gerrard captioned the photo a simple heart. The first snap of this adorable kid saw him sleeping in his star blanket. He is most certainly the star of the football star, Steven Gerrard. Gerrard had earlier made an announcement of the baby's delivery and wrote that Lio was born on Saturday at 4:5 am. Furthermore, he shared that their "family is complete". Steven had surprisingly posted "It's a boy", in his Instagram post amidst his six million followers who all got excited at the lovely news.
Wife and model Alex made her first public appearance after the delivery with their newborn being pushed in a pram while on her way to a local café. Alex, 34, looked relaxed and chilled in a simple t-shirt and skinny jeans.
This kid is not the first for Steven and Alex. The couple already has three daughters named Lilly-Ella, 13, Lexie, 10 and Lourdes, 5. The couple announced the pregnancy back in November 2016. Steven shared a twitter post with a picture where his three daughters were holding an ultrasound scan of their soon to be a sibling.
Alex shared in an interview that Steven had been wanting the child to be a son since they already have three daughters. Alex kept this long gap because she was "scared" o have another baby. Not anymore!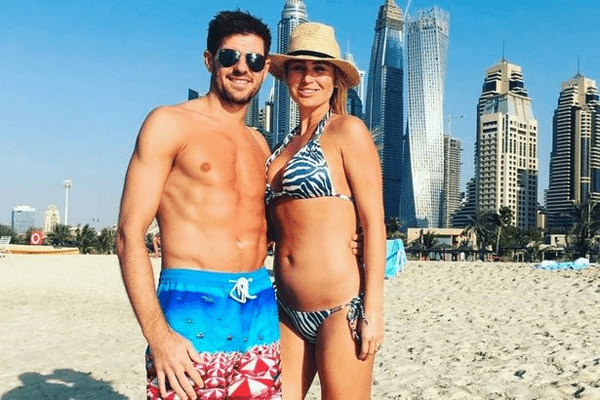 The couple had dated for five years before getting married in 2007. Alex and Steven have been doing exceptionally well as a couple and have been raising their children pretty well. Steven Gerrard's professional and personal life seems to be going pretty well.