Another ugly event took place before a football game as a Liverpool fan was attacked outside Anfield just before the UEFA Champions League semi-final clash between AS Roma and Liverpool. The attack took place outside Albert pub in Walton Breck Road at around 19:35 BST, just before the game started.
The victim was a 53-year-old man and was supposedly a Liverpool fan and was there to attend the game. Two men who arrived from Rome to watch the match, of age 25 and 26, have been arrested as suspects and are being charged with attempted murder.
The Liverpool fan, who arrived to watch the game, was attacked with belts and his condition is reported to be critical having suffered a head injury. Two people from Rome have been arrested on suspicion of attempted murder.
The victim apparently suffered from a head and multiple concussions and has been admitted to a hospital according to the police. "Witnesses report the victim was beaten with a belt and fell down on the ground.", Merseyside Police Detective Inspector Paul Speight said. "His condition has been described as critical and his relatives have been informed."
Also see: Toronto Van Accident Kills 10 and 15 injured
Apparently, there were multiple clashes between  Liverpool and Roma supporters outside Anfield just before kick-off. The crash occurred when about 80 Roma fans used a side road to arrive at the area where Liverpool fans were stationed. One supporter was motionless and people were carrying belts and even a hammer as seen in this video:

Other than two boys, the police have also captured seven men between the ages of 20 and 43 for various offenses like affray, assault, possession of offensive weapons and many more. Detectives are looking into the use of flares outside Anfield, which had been banned.
The Injured Liverpool Fan is now Hospitalized.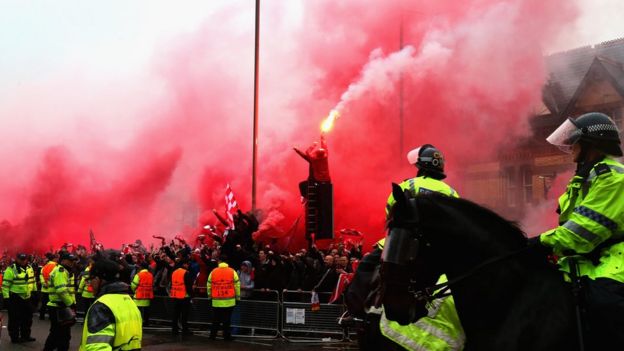 Liverpool fans, who clashed with Roma fans, using flares before the match. Image source: Getty Images
According to the David Ornstein, the pre-match trouble began outside the Kop End.
The trouble began when a group of Roma fans burst through Venmore Street on to Walton Breck Road and attacked Liverpool fans using belts. A Liverpool fans was knocked unconscious and received a lengthy  medical treatment. One person even had a hammer.

David Ornstein
Sunday Times football correspondent Jonathan Northcroft also witnessed the incident and tweeted the following:
Liverpool quickly released a statement expressing their shock at the event. They vowed to offer full support to the victim's family.
This event comes just a few weeks after Liverpool fans destroyed the Man City team bus before their match at Anfield. UEFA charged Liverpool for throwing cans, bottles, and flares at the bus.
Roma supporters have also previously been involved in violent attacks against English fans when several supporters of Tottenham were injured in a clash in Rome back in 2012.
For more news and entertainment, visit Superbhub.