It looks like Lionel Messi is having the time of his life after getting married to his wonderful wife and living with his son. Lionel Messi recently got married to his partner Antonella Roccuzzo. Lionel Messi is on a Honeymoon break and has been spotted with his lovely wife and their adorable son. Let us get into the details!
If you think players only stay focused in the ball to enter in their court than you are absolutely wrong. Players like Lionel Messi sure know how to work hard and play hard as well. Leo was spotted this weekend in the Caribbean celebrating his honeymoon with his new wife Antonella Roccuzzo and their 2-year-old son on the beach.
While Messi sported blood-red shorts, his new wife, Antonella looked gorgeous and sexy in her skimpy blue and coral bikini. Antonella's picture caused many men to drool. Their adorable sons were playing with his dad in their black shorts.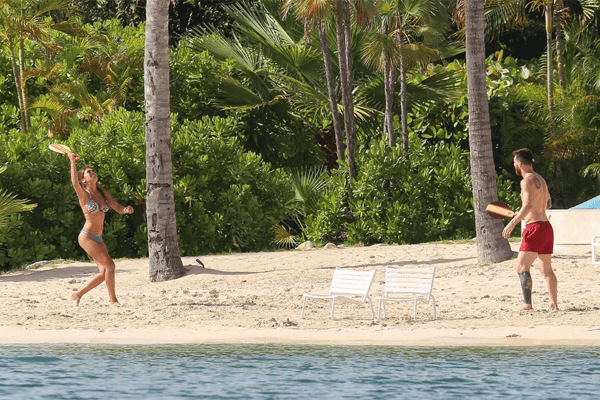 Antonella Roccuzo, the love of his life was his childhood sweetheart as well. The couple had known each other since they were five years old and lived near each other in Rosario. Eventually, as the years went by, the couple got closer to each other and then began living together in January 2009. Leo and Antonella had their first child, a son, Thiago in 2012. His second son Mateo was born in 2015.
Over the years, we can see that the love between the two young hearts has been growing larger and larger. The couple recently got married in a lavish event at Hotel City Center in Rosario on 30th June 2017.
Messi finally decided to take time off his career for once to enjoy some quality time with his wife and kids. Lionel Messi is on a Honeymoon break after his marriage with the love of his life.
With a $33.6 million contract a year till 2021 signed and sealed by him with FC Barcelona, Lionel Messi has absolutely no time to stress over small matters. He is perfectly in time to relax with his wife and kid. So, Lionel decided to head to the Caribbean with his family of 4 and spend some quality time together.
Lionel Messi is on a honeymoon break and we cannot have enough of his exciting and adorable pictures. To catch up on his honeymoon details please keep following.