E! star 39 year old Kourtney Kardashian's love affair and relationship with 24 year old model boyfriend Younes Bendjima has always been in spotlight. And recently just before her boyfriend turned 25, Kourtney gave her love a surprise on his birthday.
Keeping up with the Kardashians star along with her boyfriend Bendjima were holding hands on the red carpet while attending the Syrian American Medical Society's Voices in displacement event on Friday, May 4 in Los Angeles. Just after the event Kourtney rushed her beau to her private plane.
Then she posted a curious and exciting post in her Instagram, stating that he has no idea where they were going.
She didn't reveal where the couple were heading to, but started sharing photos of how the lovebirds have previously spent time celebrating occasions like Christmas and vacationing together in many places including Egypt.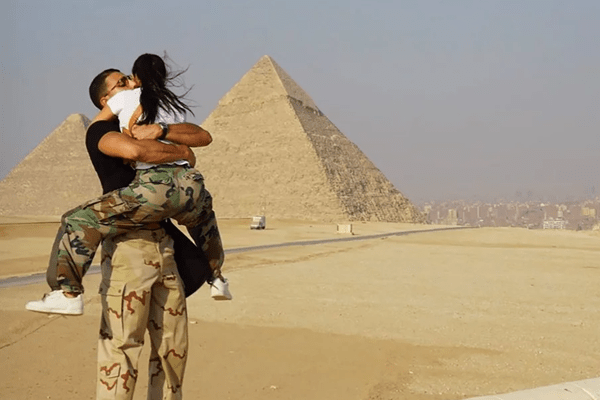 Kourtney Kardashian vacationing with boyfriend Younes in Egypt.
Source: People
Turns out Kourtney had planned big for her boyfriend's big day. After enjoying food from Jon & Vinny's, the sweethearts checked into their hotel where she had made reservations. When the couple reached their hotel room, Kourtney surprised Bendjima with balloons decorations and a cake with picture of him when he was a toddler.
Have a look at the video, how happy and excited he was while blowing the candles.
Kardashian on Saturday, also gave Younes a hint that that was not the end, they are sure to go somewhere next but kept the next destination under wraps.  Kourtney had posted a video in her instagram where she wished happy anniversary to her beau near the Colorado river.
What a romantic surprise birthday celebration!
Kourtney and Younes who first met during a trip at Paris in October 2016 looks really in love with each other. According to People, Younes has met Kourtney's kids and family. Her family also really likes him, because he  treats Kourtney with respect and takes good care of her.
Kourtney also wants to maintain a balance in her life between her kids and relationship with Younes. Thus, she has been planning on such trips once in a while with her boyfriend so that she can have that balance in her relationship with Younes and at the same time be the best mom to her three kids from her ex Scott Disick while at home.
Be with SuperbHub for more entertainment, and news.