Rapper Kodak Black and NBA YoungBoy are dissing one another via social media after the detained rapper; Kodak accused NBA of cooperating with the police in the stabbing incident in his Houston home.
Floyd Mayweather's daughter Iyanna Mayweather was arrested for stabbing NBA Youngboy's baby mama, Lapattra Jacobs, in both arms on April 4. Also known as 'Yaya,' she has been released and is charged by the TX prosecutor's office with felony aggravated assault with a deadly weapon. Youngboy was also detained briefly on the scene by police.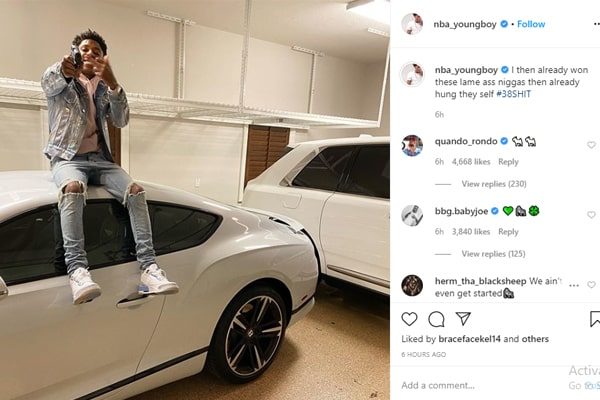 NBA YoungBoy's girlfriend, Iyanna Mayweather, was arrested on April 4. Image Source: YoungBoy's Instagram. 
Incarcerated Florida rapper, Kodak Black has his ears out on the street and isn't afraid to comment on. The rapper hit Youngboy as being a "snitch" as he is fully cooperating with authorities.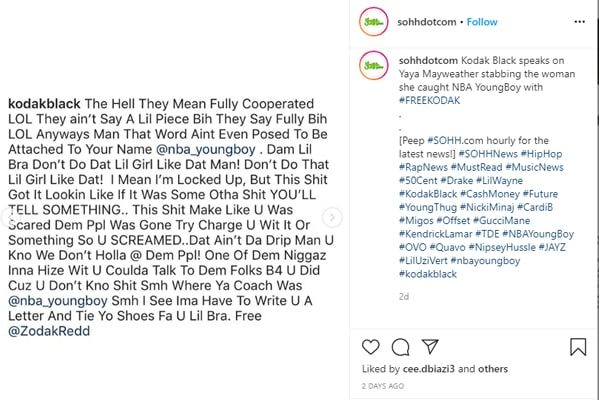 Rapper Kodak Black dissed NBA YoungBoy and called him a "snitch." Image Source: Sohdotcom's Instagram. 
NBA Youngboy was quick to respond to the accusations from Kodak, and via Instagram Live, he fired back. He stated:
"I ain't never paid attention to no ni**a. Especially, from no m***f*ckin cell, n*gga. What the f**k that ni**a watching me for?" he snapped. "Then, what the ni**a say? A ni**a says I cooperated. About what you stupid b*tch? About my wife?"
Furthermore, he woke up his "honey," Iyanna, who made her appearances verifying her release. Likewise, Kodak's Sniper Gang artist JackBoy got into the bubbling beef and called out on his Instagram Live, claiming NBA Youngboy doesn't care about his homeboys.
Naturally, YoungBoy responded to JackBoy as well, claiming his friend slept with a woman JackBoy was dealing with.
The two young rappers are at odds over the situation, and just as things were settling, Kodak Black threw another bomb, claiming YouBoy wanting to be like him. Instead of sitting quietly and soaking the allegations, YoungBoy spoke up and accused Black of using him to gain leverage behind the bar.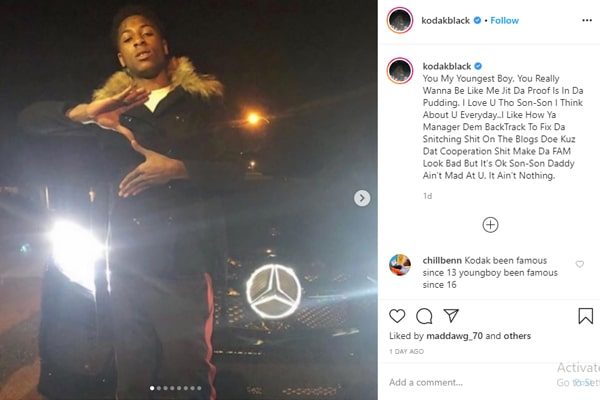 Kodak Black put up some proof to justify his argument. Image Source: Kodak Black's Instagram.
Furthermore, NBA YoungBoy, aka Kentrell DeSean Gaulden, was more upset as Kodak Black would comment him from the bars. Therefore, he asked him if he was supposed to be a gangster. Furthermore, what's fascinating is that Kodak Black is serving his time behind bars and is managing to diss YoungBoy via phonecalls and Instagram posts.
Thankfully, YoungBoy is in his home, and Kodak Black is in his cell as the feud is not required at his moment. Now only time will tell how the two rappers will settle their beef in the coming days.
Don't Miss To Follow SuperbHub For More Updates On Celebrity Entertainment, Biography, and News.