Kim Jong Un has become the first North Korean Leader to cross the demilitarized zone and step into South Korea by crossing the military line since the end of the Korean War in 1953.
Kim approached with all smiles and created a rich moment of symbolism as he shook hands on both sides of the demarcation line with the South Korean leader Moon Jae. Both the leaders have met for the first time in more than a decade.
The new era has begun for North and South Korea. DPRK's Supreme Leader Kim Jong Un and South Korea's President Moon Jae-in met and discussed political issues in Peace House.
The leaders were greeted by an honor guard in a traditional costume on the South Korean Side. Kim and Moon the walked to the Peace House in Panmunjom which is a military compound in the (DMZ) demilitarized zone separating two countries.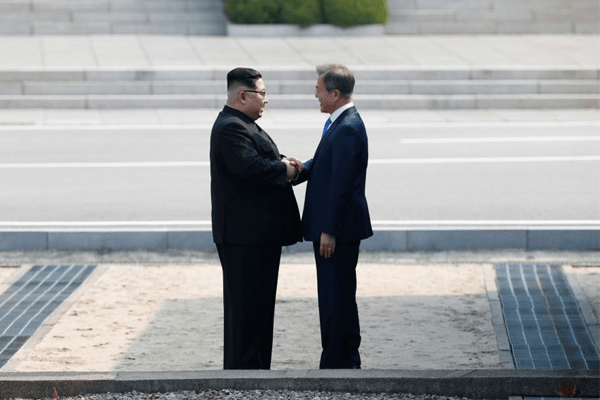 Moon Jae-in and Kim Jong Un shaking hands on thr southern side of the demilitarized zone. 
Image Source: Getty Images/Anadolu Agency 
Two leaders had their talks on the Peace House where Kim signed on a guest book and wrote in the guest book:  A new history begins now and An age of peace at the starting point of history. Kim and Moon are to have a full day of talks to focus on three main subjects; denuclearization of Korean Peninsula, a peace settlement, and improving mutual relations.
Kim meets and invites South Korean President Moon to cross the demarcation line into North Korea and together step back into South Korea while shaking hands.
A month back Kim Jong Un had visited China and met Chinese President Xi Jinping.
The pair ended their first session of talks at midday local time and Kim returned to the North Side of the border to have lunch in a limo guarded by dozens of security. The meeting will resume in afternoon and the leaders will plant a pine tree using soil and water from both countries symbolizing peace and prosperity.
Kim-Moon Summit Schedule 
| Time | Events |
| --- | --- |
| 9:30 A.M. KST/ 8:30 P.M. ET | Kim-Moon Meet at DMZ. Leaders greeted with military display. Kim signs guest book at Peace House. |
| 10:20 A.M. KST/ 9:20 P.M. ET | Summit Begins |
| Lunch | Leaders break for separate Lunch Tree planting ceremony |
| 6:30 P.M. KST/ 5:30 A.M. ET | Both Leaders attend banquet at Peace House Moon-Kim to watch video together. Farewell Ceremony |
Source: Blue House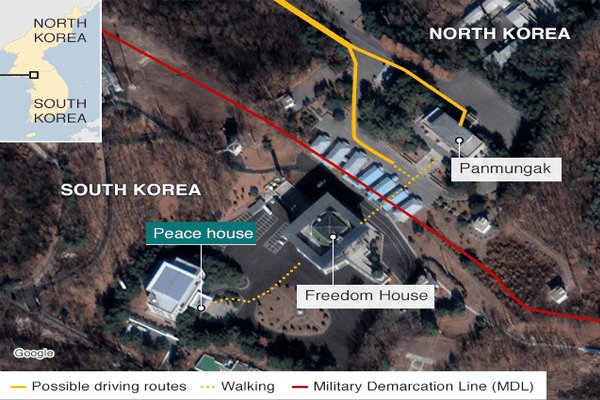 Meetings are reported to take place in the Peace House with predicted driving routes, walking routes. 
Image Source: Yonhap 
Also Read: Kim Jong Un to stop Nuclear Missile Tests 
Kim: "Why was it difficult to get here? "
Before the talk began at the Oval Table Kim said that he wanted to write a new chapter in Korean relations. Kim said that as he walked over there he thought why was it difficult to get there as the separating line wasn't that even high to cross. It was very easy to walk over the line but took them 11 years to get there.
South Korean President Moon praised Kim's courageous and bold decision to sit down for talks. Moon said that over the past decades they weren't able to communicate so now they are together they could talk the whole day, the statement made Kim burst into laughter.
North Korean Leader Kim was accompanied by his sister Kim Yo Jong who had led the Pyongyang commission to 2018 Pyeongchang Olympics. Kim was not accompanied by his wife Ri Sol Ju on his visit.
Senior Spokesman of Moon said that Kim had joked he would make sure not to disturb Moon's sleep anymore suggesting North Korea's series of early missile testing last year. Kim also stated he would visit the Seoul President's Blue House if he was invited.
The White House had issued a statement after the meeting saying that they are hopeful the talks will achieve progress toward a future of peace. The United States appreciates the coordination between their allies and looks forward to continuing discussion ahead of the planned meeting between President Trump and Kim Jong Un in coming weeks.
For More Celebrity News and Entertainment: SuperbHub.