Khloe has given birth to her first child. It's a baby girl and beautiful just like her mama. The reality star of KUWTK has reportedly given birth in Cleveland with her family while sister Kim aided by holding her legs.
Following the birth of Khloe's first child, the cheating scandal of her boyfriend Tristan Thompson continued. It is also reported Khloe has forgiven Tristan as he was also spotted in Cleveland where Khloe had given birth to her daughter.
When did Khloe Kardashian give birth?
Khloe gave birth to her first baby on April 12, 2018, with her family and boyfriend Tristan aiding by her side in Cleveland. Khloe had suggested on April 9 via an Instagram post stating she was ready whenever her baby was.
When did Khloe Kardashian confirm her pregnancy?
The KUWTK star had confirmed her pregnancy on December 20, 2017, revealing her baby bump in her Instagram post. In the post, she had captioned that her greatest dream of having a baby was realized as God had plans along.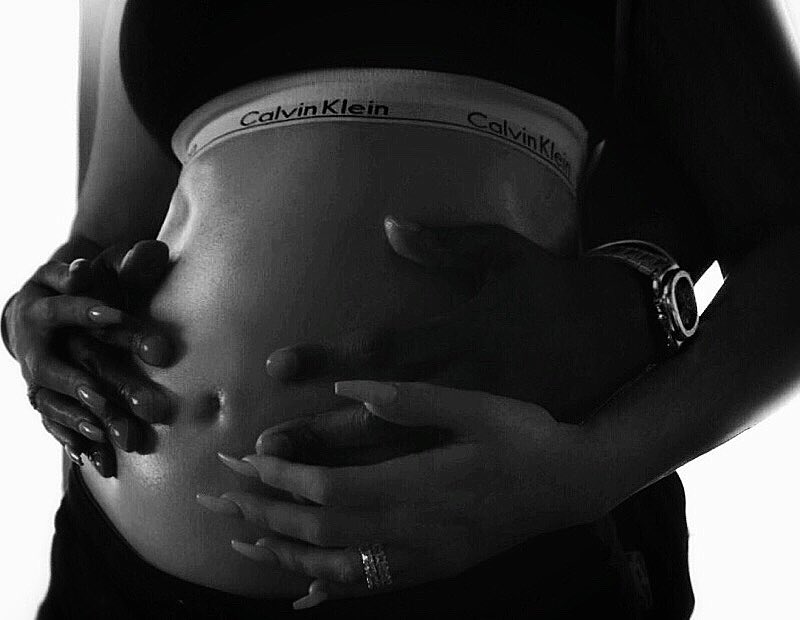 Khloe Kardashian confirmed pregnancy on December 20,2017 via Instagram.    
Image Source: Instagram/Khloe
In the post, had Khloe thanked her boyfriend Tristan for loving and treating her like a queen making her feel beautiful at all stages of her life.
Also Read: Khloe and Tristan expecting Baby
Sex Reveal and Baby Shower: Baby Thomson
The baby's sex was revealed in the Season finale of KUWTK in March 2018. Khloe was filmed telling the exciting news to her sisters Kim and Kourtney during a San Fransisco Trip.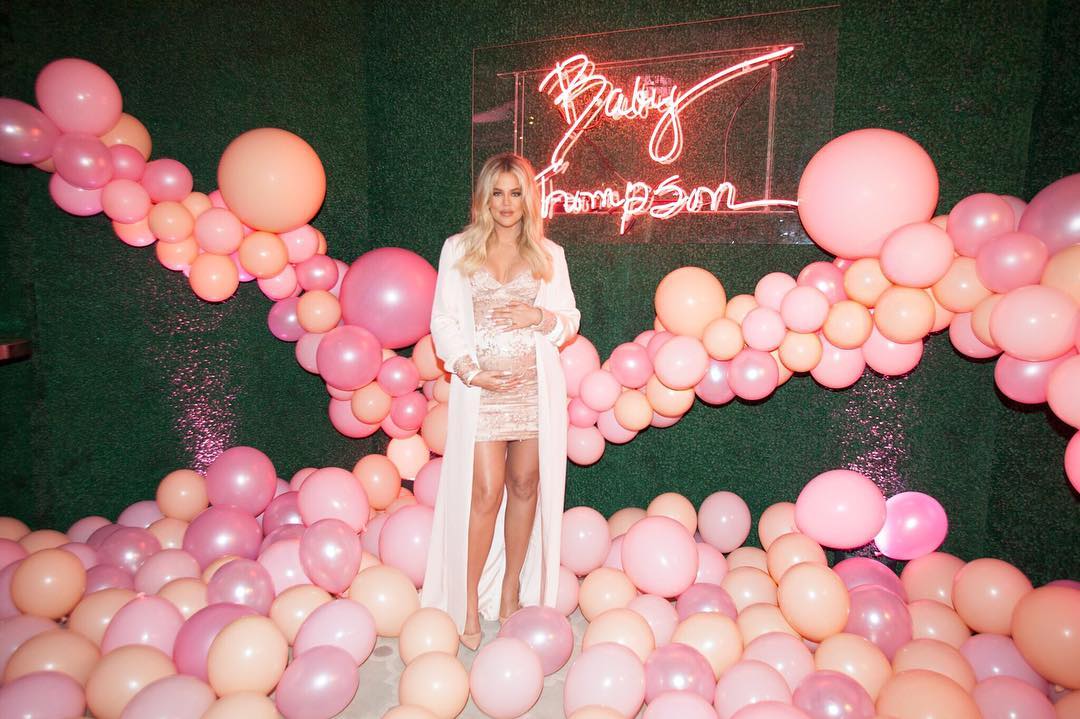 Khloe Kardashian pink-themed baby shower in Grand Ballroom at Hotel Bel-Air in Los Angeles on March 10, 2018. 
Image Source: Instagram/Khloe
Khloe's pink-themed baby shower was a grand ceremony decorated by a neon alphabetical design showcasing the name "Baby Thompson".
Also Read: Khloe Kardashian Pink Baby Shower
Khloe Kardashian Baby name
It would be obvious for Khloe to choose a name beginning with 'k' just as her famous sisters and family Kardashian. But as sister Kylie had come up with a twist no one was seeing, naming her daughter "Stormi" Khloe likewise may have something more unpredictable.
Names starting with "K" or "T"
During Khloe's appearance on The Ellen DeGeneres Show, she had revealed that she would choose a name that has significance to her and boyfriend Tristan. Khloe had stated that she would probably choose a name starting with either T or K.
Name after Family Member
Fans of KUWTK know how dedicated Khloe is to her family and how she loves her sisters. Khloe may name her baby after someone in her family as an honor.
Khloe's boyfriend Tristan also has some name inspiration in his family. Tristan's parent's names Trevor and Andrea may also be an ode to Khloe's baby name.
Non-celebrity sounding Normal name
Khloe might choose a normal and non-celebrity name for her baby. As her family has opted the alternatives like North, Dream, Saint, Reign, Stormi.
Hollywood life states that Khloe is looking for a normal name with Tristan's suggestion as well. They will follow the normal trend and aren't worried about a weird celebrity child name.
Trademark name
Khloe may have thought to give her baby a potential brand name as her sister Kylie choosing Stormi as a name for her Weather Collection. The possible name of Khloe 's baby would be something of an American brand name like America Thompson or something ending with Thompson.
According to the sources of People, Khloe's Newborn Daughter is cute with lots of black hair and is as beautiful as her mother.
For more Celebrity News and Entertainment: SuperbHub.