Khloe Kardashian is a mom and has given birth to her first child, a  beautiful daughter.
Sources close to the Kardashian had told CNN that Khloe has given birth to a girl. Khloe gave birth to the baby girl on April 12, 2018, at a hospital outside Cleveland according to the Kardashian sources.
The newborn daughter of Khloe does not have a name yet. Khloe's sisters Kourtney, Kim, Kris, and friend Malika were comforting by her side. The sisters were afterward spotted departing Cleveland on a private jet after Khloe gave birth to her first child. It is reported that Khloe's boyfriend and the father of baby girl Tristan Thompson were also there.
Khloe forgives Tristan for Alleged Infidelity
The new addition to the Kardashian family comes a day after Tristan's cheating scandal surfaced the Internet calling him a serial cheater. Tristan was spotted in the company of two women making out and motorboating at a lounge outside Washington when Khloe was 3 months pregnant.
People exclusively confirmed that Khloe has already put Tristan Thompson's alleged Infidelity behind her. Kardashian family sources say that Khloe is feeling nothing but happy right now. She is in love with her little baby and is consumed with love and nothing else matters.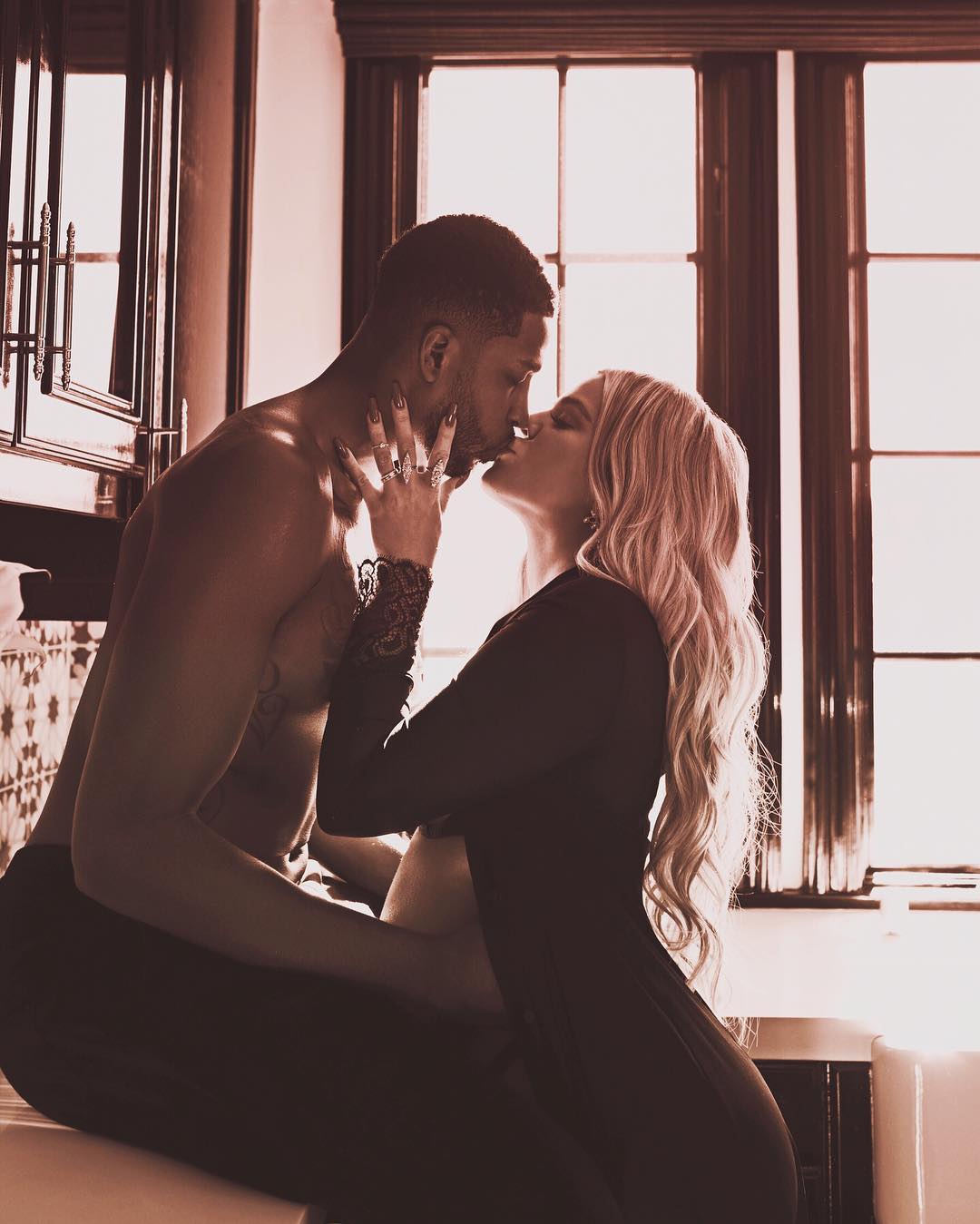 Khloe gave birth to a baby girl on April 12, 2018, forgives Tristan amidst cheatings. 
Image Source: Instagram/ Khloe
The source continued that Khloe is Incredibly happy that her baby is here and she is big, strong, beautiful and healthy. Khloe is so much filled with happiness and is cherishing her moments that she isn't mad at Tristan right now.
Khloe has basically already forgiven Tristan and now is in the bubble of love, peace, and happiness and everything relating to Tristan's cheating is just a random drunken hookup.
All the Allegations are mere existence of Khloe right now as she is enjoying her moment of bliss. In 2018 March 26 Khloe posted a picture of Tristan holding her belly bump, the actress captioned Mommy and Daddy.
Khloe had a pink-themed baby shower on March 10 on Grand Ballroom at Hotel Bel-Air in Los Angeles, California. On March 5 Khloe had revealed the gender of her baby via a twitter post.
This is the first child daughter of Khloe, 33, and Cleveland Cavaliers, player Thompson, 27. Tristan Thompson is also a father of Prince Oliver from his previous relationship with Jordan Craig.
For More Celebrity News and Entertainment: SuperbHub .