Photo Credit:PopSugar
Khloe Kardashian, who has recently been in height for exposing her belly bumps to reveal that she is pregnant posted a video in snap chat showing thanksgiving preparation with her boyfriend Tristan Thompson. They have been in the relationship for 2 years.
For the second year in a row, this reality star spent Thanksgiving with her boyfriend in Cleveland. This young woman has been away from her famous family and spending Thanksgiving with the basketball player, Tristan.
Khloe recorded her preparations on the snapshot which "always" begins two days before the holiday. "Everything's coming together," Thompson said as he surveyed the desserts. "Hell to the yeah!"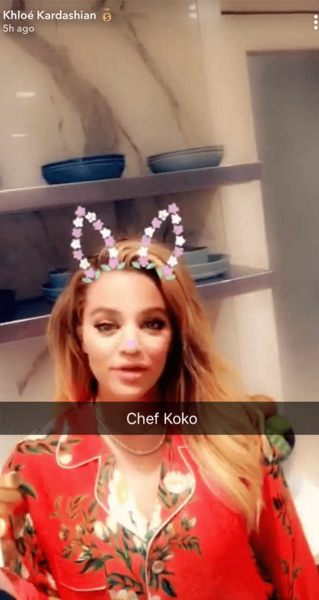 Photo Credit:pinterest
You can see that she has named herself Chef Koko in her snapchat. Kardashian prepared everything from bread, apple pie,cinnamon buns, chicken wings, cornbread, cookies, doughnuts, gravy, greens, macaroni and cheese, pumpkin pie, stuffing, sweet potato soufflé, sweet creamed corn to turkey.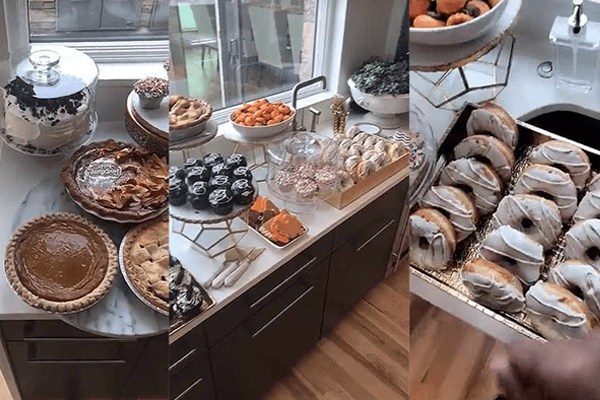 Photo credit:eonline
Also watch the video of thanksgiving event:

In the documented preparations she said that she is exhausted but it's worth to cook and slave away in the kitchen.
She further added that she loves everyone's reactions and just making everybody happy with her food. "It's so rewarding," she told her fans on Thursday. "I hope all of you are having an amazing Thanksgiving. I really needed to kick my feet up for a minute."
But, in the end, it was worth it.
Talking about, Khloe Kardashian, she is an American TV star who has been seen on a reality show called Keeping Up with the Kardashians for past 11 years. She is also an executive producer of the show. Keeping Up with the Kardashians is aired on E!. This show gives highlights about the personal and professional lives of Kardashian-Jenner family.
The first season of Keeping Up with the Kardashians started in 2007, with Ryan Seacrest, who is also an executive producer. The series mainly focuses on Kourtney, Kim and Khole Kardashian.