It is rare to see a Bachelorette couple getting engaged and setting dates to get married! However, this seems to be the case of The Bachelorette couple Kaitlyn Bristowe and Shawn Booth. After getting engaged in the show, the couple is making swift plans about their wedding! Let us hear what they have planned out for the future!
Kaitlyn and Shawn wedding date set?
Kaitlyn Bristow met her fiancé Shawn Booth in the 11th Season of The Bachelorette. The couple fell in love over the season and got engaged in July 2015. But what grabbed the attention of the viewers was the massive ring that Shawn put on Kaitlyn's finger. The Neil Lane ring is said to be worth $150000 and the most expensive ring till date in the history of The Bachelorette.
The engagement was really emotional and romantic. Shawn romantically shared that he had been falling in love with Bristowe more and more every time he saw her. Shawn shared that he had seen her as a "best friend, a partner in crime."  When  Shawn booth said the three magical words, Kaitlyn was quick o say "Yes".
Kaitlyn and Shawn Booth posed for the People magazine's cover. Shawn was holding Kaitlyn by the waist while she flaunted off her ring!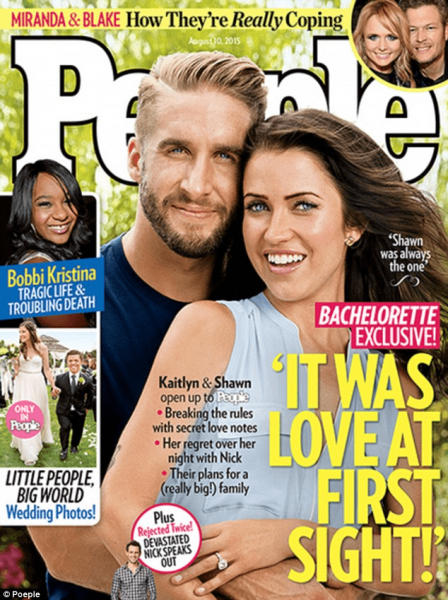 But the couple seems to be having trouble making wedding plans as Kaitlyn revealed that both of them were terrible at making plans. They are most probably going with the flow. Kaitlyn revealed in an interview that both her and Shawn have been busy with their work at present and don't really have the time to make plans for the wedding. She jokingly shared that she'd get married if "someone just said, 'Show up here at this time.' "
In the beginning of January 2016, there had been rumors that the Kaitlyn was pregnant. All her followers in her social media accounts had been asking Kaitlyn about the wedding date, thus Kaitlyn posted a picture of Shawn and herself and captioned it "Not pregnant and no wedding date."
However, while talking about her pregnancy rumors, she revealed that she liked the idea of having a kid rather than planning a wedding! Currently, the couples have a lovely pet dog named Tucker whom they are loving like their own kid.
So it has cleared all the rumors about the couple's possible wedding event or pregnancy!