Justin Bieber and Hailey Baldwin were engaged in July 7 this year. Nobody thought the pair would get married so soon! But they did. The lovebirds decided to spend their life together and take their relationship to next level.
The rumors of their secret marriage started since September 2018. But Justin gave a confirmation to it by sharing his 102 million followers in Instagram that he celebrated his first thanksgiving as a married man.

There were rumors that Justin quietly married fiance Hailey in September in New York Courthouse. But both Hailey and Justin didn't speak or gave confirmation to this news.
But, On November 15, Justin posted a picture of him and Hailey together holding hands and captioned the post saying, "My wife is awesome."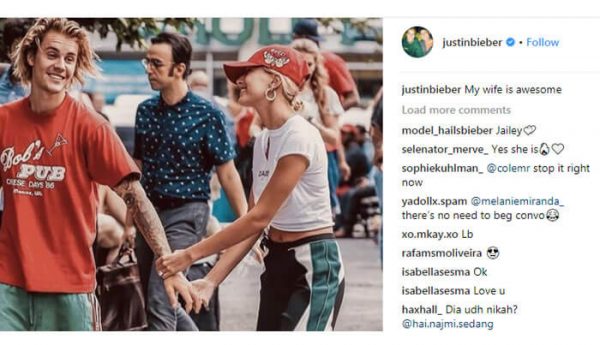 The hints grew stronger when Hailey changed her name from Hailey Baldwin to Hailey Bieber in her Instagram. She was also spotted flaunting her Bieber letter diamond necklace.
On November 22  was Hailey's birthday. So, both Bieber and Baldwin family celebrated together and you can see Hailey's post where the couple are kissing each other. This is Hailey's first birthday as a married woman too!
View this post on Instagram
After the confirmation, the married couple were spotted together both wearing Toronto Maple Leafs jerseys at a hockey game in Toronto on Saturday. When spotted by photographers, Justin just turned towards his wife and gave her a smooch on her lips. 
The husband and wife are having great time together just as Justin has shared on his Instagram post after his engagement. Then he said that Hailey Baldwin is the love of his life and he wouldn't want to spend his life with anyone else. He had added that his little brother and sister will be able to see a healthy stable marriage. Justin said that he and his better half Hailey will be together and better at 70.
More to follow in SuperbHub for exciting celebrity news and entertainment.