WWE power couple John Cena and Nikki Bella have called quit on their six years of relationship. The couple had won over many hearts of T.V. audience in the reality T.V. series Total Divas and Total Bellas.
The couple have called off their nuptials just weeks before their wedding date. Cena had proposed Bella live in the middle of the ring at WrestleMania 33 in April 2017. There were 75,245 audiences that day.
On April 16, 2018, Nikki Bella announced via her Instagram that the two have decided to separate as a couple. The duo asked to respect their privacy at the moment.

John Cena had posted some heartful images on his Instagram like a heart-shaped shattered glass,  Walt Whitman quotes like, "we were together. I forget the rest". The wrestler also posted the Simpson's memes of Worst Day Ever.
John Cena and Nikki Bella have been together since 2012 and had celebrated their impending nuptials with an engagement party nine months after Cena proposed to Bella.
John then had shared his happiness via a tweet a day after their engagement party declaring his love to Nicole and how a wonderful and emotional day he had with his fiance and families.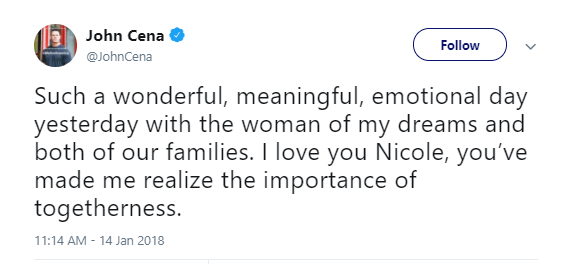 Talking to US Weekly on March 21, 2018,  Cena had talked about how he didn't want a bachelor party and just wanted to truly enjoy the time relaxing.
Cena while promoting his movie "Blockers" had told People that how he felt already married to Bella. Cena loves the moment when people would come to him and say they love watching his wife Bella on television.
They were experiencing difficulties in their relationship for quite a while before their breakup. Bella was furious about Cena's sex scene with Amy Schumer in the movie Trainwreck.
Cena was also unhappy that Bella would post about their private time on her YouTube account, which was another big reason for their breakup. They had apparently postponed their marriage as well.
This is not the first time Cena has experienced a high profile breakup. His marriage to wife Sarah ended in 2012 after Cena was found cheating on her with fellow employee Eve Torres.
For more Celebrity News and Entertainment: SuperbHub