Who knew the WWE legend John Cena could be so romantic? At WrestleMania before 70000 fans, John Cena proposed to his girlfriend, Nikki Bella with a shimmering ring! WrestleMania roared this time not for a SmackDown but for the immense love that surrounded the arena! It seems like wedding bells are on the way!
See: John Cena and Nikki Bella Split
Scroll down for More Images and  video !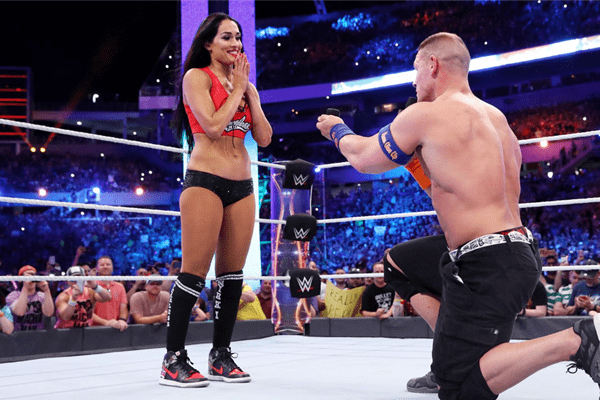 WWE legend John Cena made the crowd go crazy yet again but this time with a ring in his hand. After a win in a tag team match in the ring against The Miz and Maryse on Sunday,  John Cena took an emotional speech up the stage with his girlfriend Nikki Bella frozen and astonished.
John Cena took an emotional speech up the stage with his girlfriend Nikki Bella frozen and astonished
Cena knelt on one knee and began his speech where he shared with Nikki their moments earlier this year when she had said yes when Cena asked: "'Do you know one day I'm going to marry you?".
Cena amazingly wrapped up the memory by asking Nikki Bella to " say yes one more time"!
John Cena swiftly asked Stephanie Nicola Garcia-Colace aka Nikki Bella to marry him. The surprised and emotional Nikki Bella answered with a passionate kiss.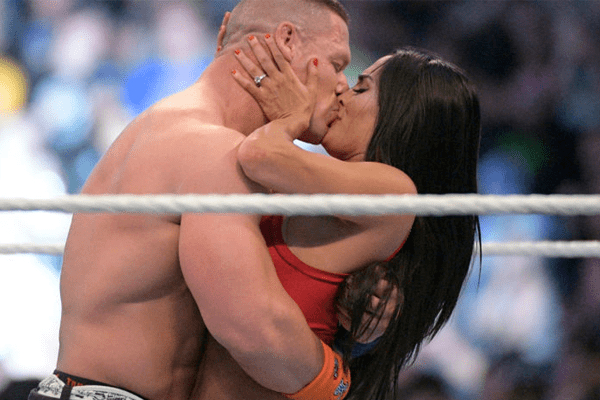 The crowd went bonkers and Nikki's twin sister Brie though their joint account wrote a tweet congratulating the couple and emotionally welcoming Cena to the family.
The Miz and Maryse against whom Cena and Bella played the tag team match, have recently been married. Before the match began Maryse claimed that Bella had been jealous of her while she showed her wedding ring meaning that Bella was jealous because she wasn't married like Maryse. John Cena's proposal might have been a tight slap on Maryse's face!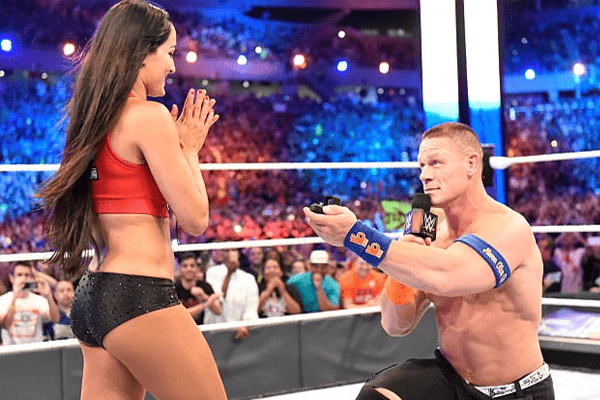 John Cena and Nikki Belle have been dating since 2012. Cena was previously married to his ex-wife, Elizabeth Huberdeau but the couple had a divorce in 2012. After the divorce, Cena had shared with Washington Post that he would most likely never get married again or have kids.
However, his love for Nikki Bella might have caused the change of his heart! The previous year, when Nikki was asked on the talk show, The Real if Cena would propose to her, she had shared that he might since he had talked about it the past year. Furthermore, she also said that she had always been excited about it for birthdays, anniversaries and holidays.
Finally, the special moment surprisingly was held at the WrestleMania!